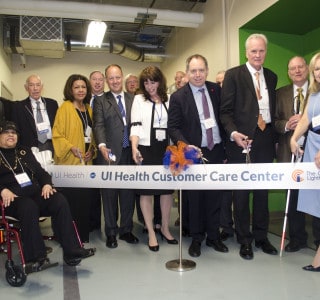 Lighthouse Dedicates New UI Health Customer Care Center
June 3, 2019
"My self-confidence was completely shaken by my vision loss so this partnership with UI Health was an opportunity for me to see if I could still make a contribution to the world!"
That comment from Jim Neitzel, assistant director of call center planning and analytics at The Lighthouse who is also visually impaired, summed up the feelings of many employees with disabilities during the May 8th dedication ceremony for the new state-of-the-art, fully accessible UI Health Customer Care Center.
Established at The Lighthouse in 2014, the Center provides general information, scheduling and coordinating of patient appointments, referrals and pre-registration, appointment reminders and connections to nurses who can answer health questions. The new facility will streamline operations to boost customer service while providing a modern work environment for employees, many of whom are disabled or Veterans.
"This is a groundbreaking and game changing development that will greatly expand job opportunities for people with disabilities and Veterans," said Lighthouse President and CEO Dr. Janet Szlyk, who pointed out that approximately 143 Lighthouse employees already work for the UI Health Customer Care Center. She also praised UI Health officials for their vote of confidence in The Lighthouse and for their own commitment to recruiting individuals with disabilities and Veterans.
Noting that the customer care center handled more than a million calls last year, CEO Michael Zenn of the University of Illinois Hospital and Clinics commended employees for providing outstanding customer service.
He also saluted the partnership with The Lighthouse and said that it was an example of how UI Health actively engages with community organizations to offer exceptional care and quality service to its patients and their families.
The Lighthouse/UI Health partnership received national coverage when 130 media outlets across the country with a combined audience of 90 million people reported on the dedication ceremony. It was also covered locally by both WBBM-AM and CBS 2 Chicago.
Back to top