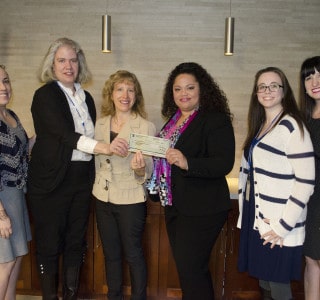 Like a Good Neighbor, State Farm is Here!
June 3, 2019
The partnerships we create here at The Chicago Lighthouse change lives. Recently, we have had the privilege to partner with State Farm through their generous support of our Employment Services Program. Both of our agencies recognize how job training gives people not just skills but access to opportunities. Employment is a crucial factor in ensuring someone can lead an independent and fulfilling life. However, for those individuals who are blind, visually impaired, disabled, and Veterans, becoming job ready can come with additional hurdles, or even seem impossible.
Workers with disabilities are in particular need of employment assistance, as over 65% of people with a disability are not employed. We aim to reduce this staggering statistic by engaging strategically with partners, like State Farm, to provide training and services to clients in all aspects of their career development. This may be though computer training, an introduction to adaptive technology, or the creation of a resume. While our counselors are always participating in skill building activities with clients, we have found many benefits for both parties when our partners volunteer their time with us.
We are currently working to connect our clients and State Farm agents directly through one of our popular volunteer opportunities, the mock interview process. For volunteers, mock interviews are a chance to see our Program firsthand while also providing their professional expertise to our clients. Their constructive feedback following the activity is invaluable, allowing our clients to continue to improve and develop the necessary skills to be successful in their future job hunt.
The intended outcome for The Employment Services Program is for potentially vulnerable individuals to gain job readiness skills so they can find and retain long-term employment. With State Farm as a partner, we are excited to change the lives of not only these clients, but to positively impact their employers and community as well.