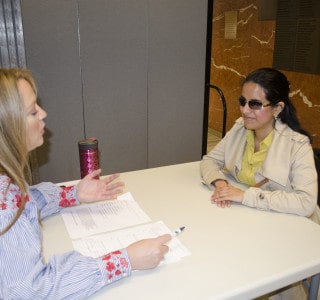 Chicago Lighthouse Brings Job Fair for Veterans, People with Disabilities to Pilsen June 14
June 3, 2019
As part of its ongoing community outreach efforts, The Chicago Lighthouse will conduct a job fair for Veterans and People with Disabilities in the Pilsen area on Chicago's southwest side on Friday, June 14.
This very special event will take place from 9 a.m. to 1 p.m. at the Illinois Department of Employment Security, Pilsen Office, 1700 West 18th Street.
Recruiters will be seeking candidates who are fluent in both English and Spanish to fill numerous positions, including call center agent and medical scheduler, which are open at The Lighthouse's customer care centers and other departments.
"We are delighted to come to Pilsen to let job candidates know about the many exciting career opportunities that are available at The Chicago Lighthouse," said Martha Younger-White, senior vice president of employment and rehabilitation services.
She pointed out that bilingual counselors will be on hand to accommodate interested candidates who are Spanish-speaking. Persons who are both fluent in English and Spanish are encouraged to apply.
"We strongly encourage jobseekers to bring copies of their resumes and dress for success!" Ms. Younger-White added.
Future interviews will be scheduled for qualified individuals. For more information on the job fair, contact Angela Kearney, recruitment manager, human resources, at 312-997-3654.