CRIS Radio
About
Chicagoland Radio Information Service (CRIS Radio) provides daily readings of newspapers and periodicals including news stories, sales circulars and classified listings for listeners with a wide range of disabilities. With the extensive help of volunteers, we broadcast readings of the Chicago Tribune, Chicago Sun-Times, Chicago Defender, Daily Herald and many more local newspapers and magazines.
By using a special SCA receiver and broadcasting on WBEZ-FM's subcarrier frequency, listeners have access to the same printed information available to sighted individuals. Listeners tune in from receivers placed in private residences, schools, libraries, hospitals, nursing homes, retirement centers, hospices, low vision clinics and community centers. CRIS can be received via the TuneIn app which can be downloaded from the App Store, Google Play, or Microsoft Apps to your favorite device. Listeners can also access daily programming via OOtunes available on the Victor Stream Reader or the OOtunes app which can be used on any iOS device. CRIS Radio can be accessed through the country's largest call to listen platform Audio Now. Simply dial (712) 832-2724 to connect to CRIS Radio programming.
Schedule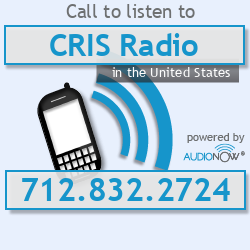 Our schedule includes regular programming Monday through Friday. Weekend programming features rebroadcasted segments from previous weeks' shows.
Get Involved
CRIS provides training and employment for people who are visually impaired and considering the field of broadcast communications. CRIS also hosts blind and visually impaired high school and college-level interns.
To volunteer at CRIS Radio, please submit a Volunteer Interest Form or visit our Volunteer Page.
The Beacon
The Beacon is an hour-long disability advocacy radio program that airs Wednesday evenings, 7 – 8 a.m., on CRIS Radio covering lifestyle and health topics, community issues and more. The program regularly features experts in various areas of medical research relevant to vision loss and related conditions. Special guests have included Secretary of State Jesse White as well as the Director of Veterans Affairs for the state of Illinois and various City of Chicago commissioners. A regular segment on the show is Luke's Laboratory, featuring Luke Scriven, The Lighthouse's Assistive Technology Manager an expert in low vision devices. Luke discusses his favorite gadgets as well as new developments in adaptive technology. Contact Luke directly at (312) 997-3649 or email Luke.
Record at CRIS
CRIS makes its broadcast studios available to colleges, high schools, broadcast schools and adult education programs. This is a great opportunity for broadcast, voiceover and acting students of all ages to use our facilities for recording demos and providing students with invaluable experience. Please contact us directly for pricing and further information.
---
For more information, please contact:
Brian Hawkins
Director, CRIS Radio
(312) 997-3687
Email Brian
Related Links
Locations & Contact
The Chicago Lighthouse is the leading provider of low vision services for the Chicagoland area. Contact us today to learn more by calling (312) 666-1331.