Learning All About Digital Accessibility by Taking the Mouse Trap Challenge!
In 2001, I started learning about OCR technology. This technology converts text from print documents or images into digital text. As I sat in front of the computer and scanner, my teacher of the visually impaired handed me a piece of paper and showed me how to put it inside the scanner. She then told me what keys to press on the computer so that the scan could begin. Around 45 seconds later, I heard the computer reading out loud the text that was on the page. To say that I was amazed was an understatement! Although I was only in eighth grade at the time, I knew right then and there that this technology would open the doors to numerous possibilities for my future.
A lot has changed since that experience with OCR technology twenty years ago. The advances in screen-readers, braille displays and other technologies have made the internet, mobile devices and apps more accessible to me. Thanks to this, I can do everyday things such as pay my bills, buy groceries, get to and from different places on my own, and work as a blogger and broadcaster – a job I truly love. All of this in turn affords me the opportunity to be independent, confident and self-sufficient at home, around my community and on the job.
As much as technology accessibility has helped those of us with disabilities, we still have barriers to overcome on a regular basis when navigating the web. Not including image descriptions or having a website with a poor color contrast makes it difficult, if not impossible for people who are blind or visually impaired to navigate the internet with screen-reading or magnifying software. For example, since we cannot see where to point and click with the mouse, we rely on the computer's keyboard to browse the web. When buttons or links on a web page are poorly labeled, it often becomes impossible to add items into a shopping cart, play computer games or even fill out important documents. There have been many instances when I could not purchase things like concert tickets or electronically sign confidential documents independently simply because the websites were not accessible. This no doubt made me feel frustrated given that I had no choice but to depend on a person with sight to assist.
Global Accessibility Awareness Day is celebrated in May of each year. Now marking its 10th anniversary, GAAD helps spread awareness about the importance of digital access and inclusion for people with disabilities. Many misconceptions exist about accessibility. One of the most common is that only web developers or technology experts can make websites, social media, documents and other communications accessible. Nothing could be further from the truth! We can all take simple steps that will go a long way in making digital accessibility a reality.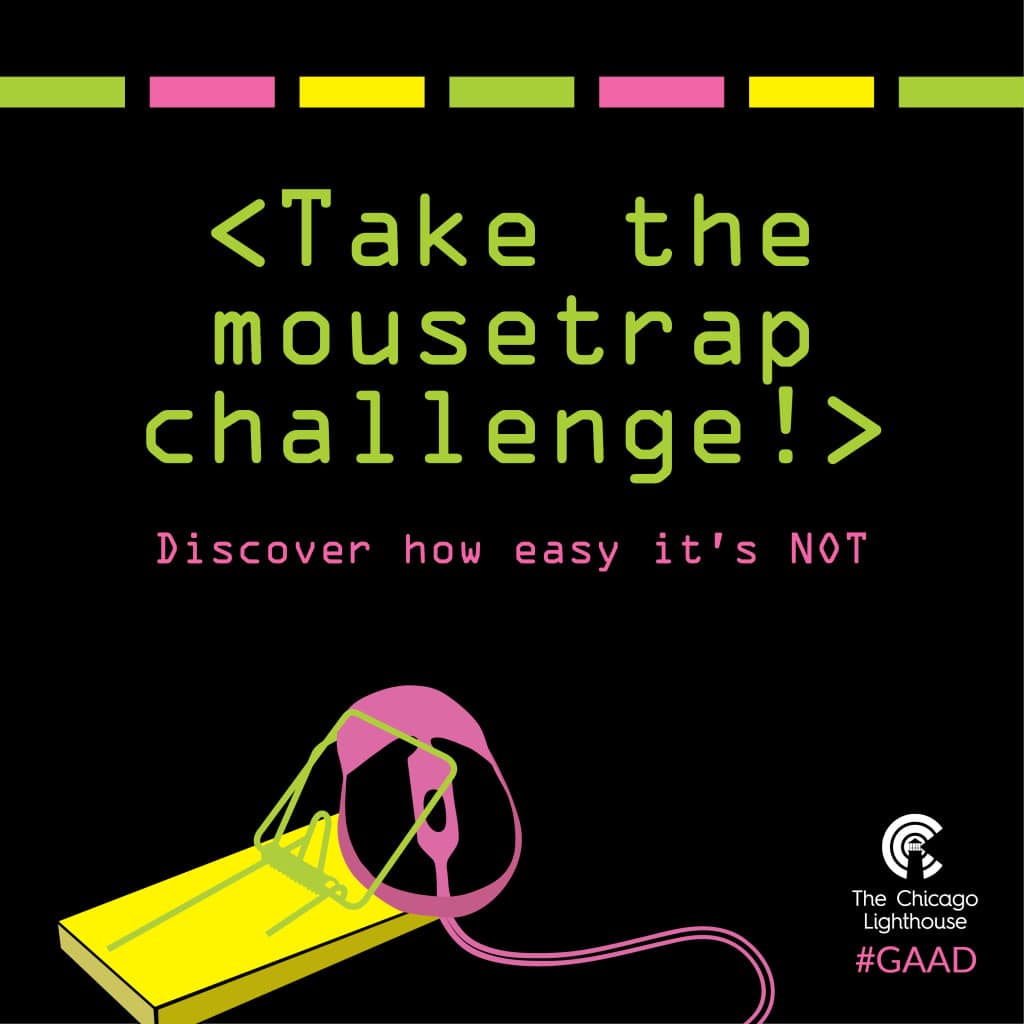 You can get started now by taking the Mouse Trap Challenge! This activity is part of The Chicago Lighthouse's Accessibility 101 course, which can befound at www.chicagolighthouse.org/gaad. Hide your mouse (or cover your laptop's trackpad) and go to your favorite website. Next, try to complete a task by only using your keyboard and share what you learned in any of our social media pages. If you complete the challenge, you will be entered to win a $25 Discover gift card. Have fun while learning how easy it is not when websites are inaccessible! Submissions are due by Friday, May 28 at 11:59pm CST. In addition to the Mouse Trap Challenge, you can complete other activities, learn fun facts and simple steps you can take to help make the web and other communications accessible and usable for people with disabilities.
I invite all of the Sandy's View readers to check out the website, www.chicagolighthouse.org/gaad so you too can learn how easy it is to make the web and other digital technologies accessible, all while having fun. If you participate in any of the 'challenges', I would love to hear your experience! Leave us a comment on this post, or email sandysview@chicagolighthouse.org. Let's all work together to create more opportunities for people with disabilities!
Back to top