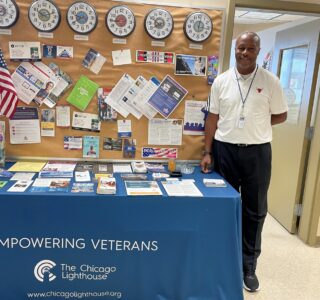 Navigating a New Mission: Learnus Ross Named New Veterans Coordinator
Learnus Ross knows what it's like to be a Veteran looking for work. In 2013, Learnus, who was working intermittently as a referee and umpire for amateur football and basketball games, came to The Lighthouse in hopes of finding more employment stability. He found employment in The Lighthouse's social enterprise call centers. Later, when Learnus wanted to deepen his knowledge of the criminal justice system, he applied for and received a Lader Family Scholarship to pursue a paralegal certification.
Over the summer, Learnus became The Lighthouse's first full-time Veterans Coordinator, where he will use his knowledge of our programs and services to empower Veteran clients by providing valuable resources, job training, employment placement and ongoing support to promote career advancement.
"I love to help people and grow relationships," Learnus says. "I have a giving heart, and this will definitely be my legacy."
In the position, Learnus will likely lean on his service record to assist The Lighthouse's Veterans. Learnus was an electrician in the U.S. Navy and served two tours in Kuwait and Iraq during Desert Shield and Desert Storm in the early 1990s. Over his 4 years in military service, Learnus earned several medals and commendations before receiving an honorable discharge as an E3.
"It was an honor to wear that uniform and represent my country," Learnus says. "It gave me a sense of dignity and pride."
After the Navy, Learnus attended Chicago State University, earning a degree in physical education. He put his degree to use, refereeing high school and college football and basketball games. Seeking more stability, Learnus found his way to The Lighthouse, where he landed a position in our contact centers, first working for the Illinois Department of Financial & Professional Regulation and then as a medical scheduler for UI Health. He earned 32 Customer Compliment Awards for his dedication and excellent customer service skills.
In addition to his work helping Veterans at The Lighthouse, Learnus is a poet. Learnus discovered a passion for the art form after participating in a poetry slam as an undergrad. He has since written nearly 200 poems and has pushed a book, "Poetry is a Way of Life: All Walks of Life," which is available to purchase on Amazon.
"I like to write poetry that makes you think, become in tune with your emotions, and makes you feel good about life," Learnus says. Undoubtedly, those are the same qualities he will bring to his new position working with our Veteran clients.
Success stories like Learnus's are only possible thanks to the generosity of our donors and broader community. You can support our programs here.
Back to top