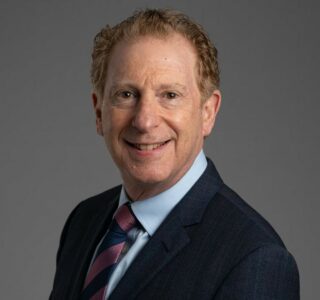 New Board Chair Dr. Thomas Deutsch Outlines His Vision
The Chicago Lighthouse's new Chairman of the Board of Directors, Dr. Thomas Deutsch, is no stranger to helping guide the organization. In 1999, Dr. Deutsch was the Board's President. (The Board had a different structure then, and the position was akin to the current Vice Chair position.) The Lighthouse has changed significantly since that time with new programs, a broader base of clients, and a growing social business enterprise arm that provides employment opportunities for people who are blind, visually impaired, disabled and Veterans. One thing, however, has remained the same, says Dr. Deutsch, and that is The Lighthouse's unwavering commitment to helping the clients of its mission build confidence and independence in all aspects of their lives.
An ophthalmologist, Dr. Deutsch is the first eye-care professional to lead The Lighthouse's Board in more than a decade. Over his three-year term, Dr. Deutsch plans to draw upon his background as The Lighthouse continues to balance the social business enterprise with its low vision programs, including its clinical services, psychological counseling, occupational therapy and adaptive technology programs, as well as its groundbreaking low vision research. Just as significantly, Dr. Deutsch will use his experience in management at RUSH University System for Health, where he has been Senior Advisor to the CEO since 2019, to help build The Lighthouse's organizational infrastructure as it continues to expand.
How would you describe your role as Board Chair?
The Lighthouse is run by its management, not the Board. I see my job as helping to make sure that management gets the support and encouragement for the work they are doing and to provide guidance on the strategy that it is pursuing for the future. I want to help create a culture where we try out new things and are honest with ourselves about whether they are working out, or if they are the right fit for us. The Forsythe Entrepreneurial Center, which we took over from Hadley last year, is a great example. While we have provided employment services for years, entrepreneurship is a new area for us and will enhance our ability to support all of our clients.
What are your priorities as Board Chair?
I would like to continue the evolution in the strengthening and structure of our governance. One of the things my predecessor, Bob Clarke, put in place was to structure our board committees in parallel with The Lighthouse's management structure. We will further those improvements as we continue to recruit new members, so we can have the best type of governance for an organization as complex and comprehensive as ours. My work at RUSH has helped me understand large, complex, matrixed organizations, which gives me insight into The Lighthouse's operations. I know full well that the balance between management and governance is a delicate one that needs to be nurtured, and that is a key part of my role as Chairman.
Where would you like The Lighthouse to be when your term ends?
I would like The Lighthouse to have a national leadership and presence in providing services to people who are blind, visually impaired, disabled and Veterans. There aren't a lot of organizations that provide the comprehensive services – including employment and independent living skills – that The Lighthouse does for our populations.
I also want The Lighthouse to keep thinking about how it can do more. The most current example is our Foglia Residences building, slated to open next Spring, which will provide safe, affordable, accessible housing for people with disabilities. It is a transformation of the services we can provide to our community.
Back to top