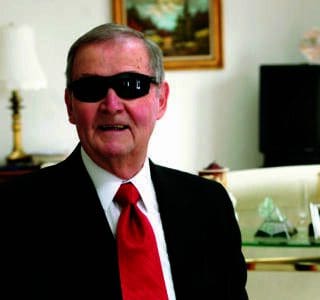 Remembering Carl Konrath
We are mourning the loss of Carl Konrath, former Lighthouse Board Member and employee. Carl's mission in life was to help people who are blind or visually impaired, which he carried out in many significant ways. He knew the challenges faced by these communities firsthand, as he was born with an eye condition related to glaucoma, congenital cataracts, and retinal detachment.
Carl's vision began to deteriorate as he was finishing high school and preparing to enter the workforce. He was successful in many roles, but as his vision continued to worsen so did his ability to carry out certain job tasks. In 1951, he was referred to The Lighthouse and hired as a Supervisor in our Industries Program. In this role, he oversaw nearly 100 employees who were blind or visually impaired and trained them on operating machinery to manufacture products including microscopes and chemistry sets.
Carl's strength as a supervisor was recognized by his colleagues, and he was offered to lead the Work Adjustment Skills Training Program (known today as our Employment Services Program). As a leader, he established a first-of-its-kind vocational evaluation program that expanded career opportunities for people who are blind by more efficiently identifying their talents and skills. Carl retired in 1994 and stayed involved with The Lighthouse as a Board Member and a generous donor along with his wife, Maggie.
"Carl made a tremendous impact on The Lighthouse through his work and outstanding efforts," says Jim Kesteloot, Lighthouse Board Member and Former Lighthouse Executive Director who worked closely with Mr. Konrath. "I am so thankful for all that he did."
To learn more about Carl and his time at The Lighthouse, watch his interview here: https://youtu.be/2s4rit-6rsI
Back to top