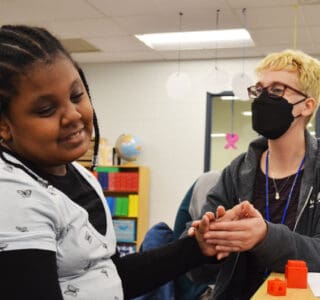 A Sort of Homecoming
Birth-to-Three Program graduate Samantha aims to be a role model for children with visual impairments in our school.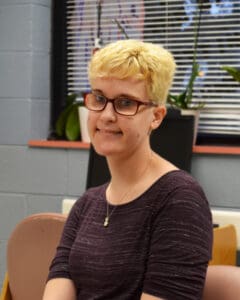 When Samantha first entered The Chicago Lighthouse's school for her first day of work as a paraprofessional aide, she felt like she was coming home. In a sense, she was.
Diagnosed with retinitis pigmentosa as an infant, Samantha was a participant in our Birth-to-Three Program. She remembers learning some Braille and playing with special tactile blocks that her parents still have today. "The Birth-to-Three Program helped me understand how to learn differently," she says.
After aging out of our Program, Samantha entered her local public school system, where the services were less personalized and often infrequent. She relied on her father, who shared her impairment, to learn how to thrive in a world built for the sighted. "My teachers were ok," she says. "But it was my Dad who really taught me."
Upon graduating from high school, Samantha received a Lighthouse Scholarship to become a certified Teacher of the Visually Impaired. She has currently completed her classwork for the degree, and has come to The Lighthouse's school for some more practical experience before moving on to student teaching and her TVI certification.
"I want the kids here to see they can do whatever they want," Samantha says. "I want to make sure they feel like they won't get left behind."
Back to top