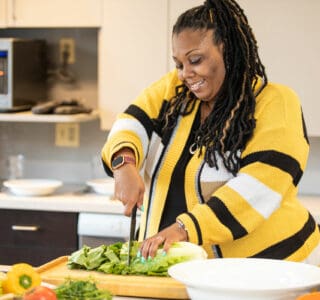 Combatting the Epidemic of the 21st Century
Working with Chicago Cares, The Lighthouse is helping those at risk for diabetes develop healthy habits before it is too late.
Diabetes has been called "the epidemic of the 21st Century." According to the World Health Organization, the number of cases has nearly quadrupled since 1980, and more than 460 million people globally currently have diabetes. That number is expected to increase to more than 700 million by 2045.
Disease complications can include increased risk for heart attack and stroke, renal and neurological issues, and blindness due to diabetic retinopathy. In fact, Diabetes is the leading cause of preventable blindness in the United States. Understandably, The Chicago Lighthouse is concerned about these effects, particularly those on patients' vision, and is now working to help people reduce their risks by adopting healthy lifestyle habits.
"By learning how to live a healthier lifestyle, they're avoiding not just the onset of diabetes, but the complications that go along with it, including vision loss," says Dr. Patricia Grant, Vice President of Research, who has been leading a free CDC-certified program in partnership with Chicago Cares to Prevent Diabetes.
Through the program, individuals who are at risk for type 2 diabetes participate in virtual group activities with a trained lifestyle coach to discuss goals and strategies for weight loss and physical fitness. Participants are encouraged to address both personal and system challenges, such as a propensity for late-night snacking or living in a food desert.
"I took this opportunity as a way to gain more accountability for my health," says program participant Natasha. "It's been great to gain more knowledge of healthy eating and exercising."
By taking a group approach to diabetes prevention, the program helps participants understand that they are not alone in trying to make lifestyle changes, and support each other through the challenges, says Dr. Grant.  "If you're experiencing a problem or feel like you've had a setback in your progress, you have a community of people working with you to find solutions and helping you accomplish your goals," says Dr. Grant.
The first cohort of 15 participants has recently completed its weekly work, and is moving on to a "maintenance phase" or monthly group sessions. A new cohort will begin taking its first steps this spring.
Diabetes and the African-American Community
African American adults are 60 percent more likely than non-Hispanic white adults to be diagnosed with diabetes by a physician.
Diagnosed cases of Diabetes among the non-Hispanic Black adults was 13% compared with 8% of non-Hispanic white adults.
Visual impairment among non-Hispanic Black adults is 27%, compared with 21% of non-Hispanic whites.
Hospital admissions per 100,000 for non-Hispanic Black adults was 114 compared with 36.4 of non-Hispanic whites.
Source: United States Department of Health & Human Services, Office of Minority Health.
Back to top