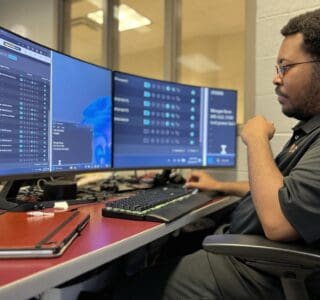 'Surpassing Expectations' with I.T. Support
Coming out of the COVID-19 pandemic, MIS Computer Corp. President Neal Berz found himself in a bit of a dilemma. His company, which provides a host of I.T. services for companies in the hospitality industry, needed to hire new employees to provide technical support to its clients, but the talent pool was not meeting his expectations.
Having worked with The Chicago Lighthouse in the past on some ancillary projects (and familiar with the agency's customer service work in contact centers for The Illinois Tollway and others), Neal had an intriguing idea: maybe The Lighthouse could help.
"I thought we might be able to take that work a step further and do I.T. support," Neal says. "This was online, real-time problem solving and every call was going to be different. We piloted it last December, and it worked, and slowly but surely, we've been expanding the program."
Though this was the first time Neal had considered contracting individuals who are blind to handle I.T. support, Neal was familiar with the blind community through his parents' volunteer work. When Neal was a teen, his parents read textbooks to college and law school students through the Blind Services Association.
"From that, I knew of people who were blind going to law school and going to medical school," Neal says. "Based on that experience, I was reasonably confident The Lighthouse staff could handle the job."
Not only were they able to handle it, but The Lighthouse's staff also surpassed all expectations. "They are consistently getting the highest scores on our satisfaction survey," Neal says. "They're doing so well, and the integration with our in-house staff has been seamless."
Employees working for MIS Computer received their customer service training through The Chicago Lighthouse's employment services program. Join us in providing more employment opportunities for people with disabilities by contributing today at www.chicagolighthouse.org/donate
Back to top