How the Pandemic gave me an even Greater Appreciation for my Mom
Mother's Day is an occasion to honor and celebrate our moms. From showering them with gifts or treating them to their favorite meal, we all have a unique way of honoring that very special person that is always there for us. Ever since I can remember, I have had a strong relationship with my mom. If anything, the fact that I have a disability makes me appreciate her support even more. How can I ever forget her tireless advocacy when I was a young child just so that I would receive the best education and other services that were critical to my development and well-being as a person who is blind? The COVID-19 pandemic and subsequent stay-at-home orders made that bond and appreciation grow even stronger.
In 2020, the world as we knew it changed. By mid-March of that year, millions of people worldwide were facing lockdowns or – at the very least – stay at home orders. This meant that many individuals could only communicate with their loved ones through the telephone or via other remote platforms. I live at home with my parents, so staying in touch was certainly not an issue for us! Recently, many news stories have surfaced about the dynamics of mother-daughter relationships during the stay-at-home order. A small research study conducted in late 2020 suggests that the mother-daughter bond has only grown stronger during the lockdown. This is attributed to the many hours spent at home together.
Without a doubt, spending many hours, days and even months together gave me and my mom the unique opportunity to grow our relationship even stronger. Small things, like having breakfast almost every day together, allowed us to talk about anything and everything. Topics ranged from the current uncertainty of the pandemic, to what was happening with our friends and other relatives, and even some of my mom's childhood stories! Sometimes my mom would even pull out pictures and we would go down memory lane reminiscing about the past, especially our most memorable vacations. As she described the photos to me or remarked where they were taken, we both mentioned how we wished we were on vacation instead! Hours were also spent watching home videos from when my brother and I were children. That most certainly brought some good laughs and smiles to both of us!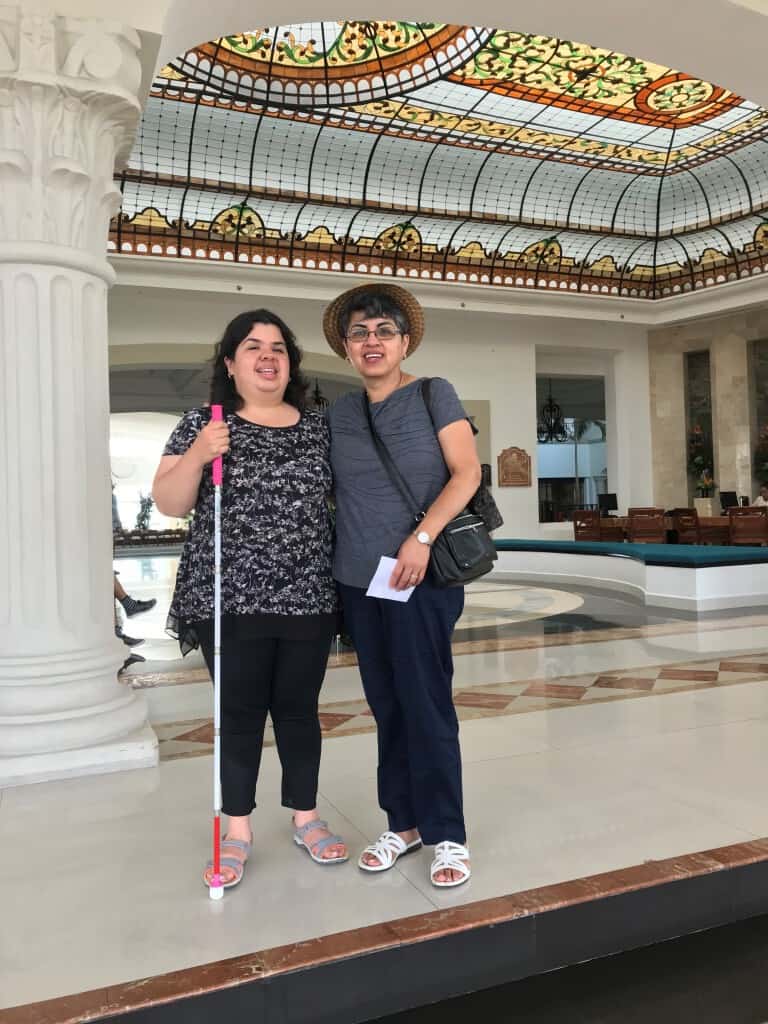 Sandy is pictured smiling alongside her mother. 
My mom was also instrumental with practical matters during the pandemic. Like many people with disabilities, I was very hesitant about going to places like grocery stores on my own or taking public transportation. Social distancing can be a challenge, even impossible, for those of us who cannot see. Prior to the pandemic, I was one to venture on public transportation, ridesharing services, or paratransit even to unfamiliar places. During the lockdown and subsequent months, I did not feel safe doing this. That all meant one thing: I needed extra help getting groceries and other essentials. My mom would pick up any supplies, food or toiletries I needed. On the rare instances I absolutely needed to go somewhere such as a doctor's appointment, she would drive me there. To many these things might seem like small nuisances, but when considering that individuals with disabilities did not always have such a robust support system, it definitely puts things into perspective. If anything, it most certainly allowed me to have a better appreciation for my mom's unwavering assistance and support.
The COVID-19 pandemic has allowed me to appreciate and value the important role my mom plays in my life more than I ever imagined. I know all too well that due to the nature of the pandemic, not everyone had the opportunity to spend as much time as they wished with their mom. While remaining at home was not the ideal situation, this afforded many of us the once in a lifetime opportunity to strengthen our bond with our loved ones. This Mother's Day, I look forward to celebrating my mom and thanking her for all she has done during the past year and throughout my entire life.
How did COVID-19 strengthen your relationship with your mom or children? I would love to hear your experience. Comment on this post, or send me an email to sandysview@chicagolighthouse.org. From all of us at The Chicago Lighthouse, happy Mother's Day!
Back to top