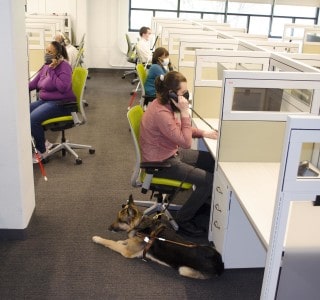 An Epic Undertaking
The Chicago Lighthouse works with UI Health and Epic to create opportunities for people who are blind or visually impaired.
For six years, Chicago Lighthouse employee Kendra has answered calls and provided basic information to patients contacting UI Health, the University of Illinois Chicago's health system. Kendra, who is blind, excelled at her work and wanted to advance in her career. Unfortunately, outdated technology that was incompatible with the screen-reading software Kendra used to navigate digital services meant that on occasions when a caller wanted to schedule an appointment, Kendra had to pass the call off to a sighted colleague.
Kendra (left) consults with her supervisor Chenita (right) in the UI Health Call Center while scheduling a patient appointment using the Epic software that is fully accessible for people who are blind.
Earlier this year, Kendra, who has Master of Social Work from Dominican University, proudly changed her title to "Medical Scheduler" thanks to a partnership between The Chicago Lighthouse, UI Health, and Epic, the company behind the most widely-used and comprehensive health records software.  Over several months, the three organizations worked together to optimize Epic for users who are blind or visually impaired. As a long-time client of The Chicago Lighthouse's social service enterprise Call Centers, UI Health executives wanted to be sure the social service organization's employees who are blind or visually impaired could seamlessly transition to Epic, which the health system had selected for its new platform.
The upgrade, which rolled out earlier this year, will open up healthcare employment opportunities for people with low vision to throughout the world.
"With the implementation of Epic's enhanced usability, I am happy to see my career develop and take off," says Kendra, who is now training other users with visual impairments on how to use the software. "With more opportunities for career advancement, I can better support myself and family, and put my advanced degrees and education to better use."
The three-way partnership came about when UI Health began using Epic. As a longtime client of The Lighthouse's social enterprise call centers, UI Health enlisted our Digital Accessible Experience (DAX) team to ensure Lighthouse employees who are blind or visually impaired could seamlessly use the new system. Over the course of several months, DAX analysts worked side-by-side with UI Health and Epic staff to optimize the software's use for people with visual impairments.
Thanks to the upgrade, UI Health Agents who are blind or visually impaired can proudly change their titles to "Medical Scheduler."
For Jose Martinez, who started out as a Call Center Agent before becoming the Lead Analyst for our DAX consultancy, knowing he is helping improve the lives of others who are also blind or visually impaired is particularly gratifying.
In a text exchange, DAX Analyst Jose and his colleagues celebrate how their work helps their fellow colleagues advance.
"Our lives depend on how well things are coded," Jose says. "Many times in my life, I have encountered websites that say they are accessible, but they are not compatible with the screen-reader I use. In those cases, they may as well be inaccessible."
Back to top