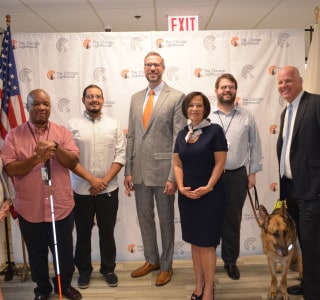 JETPAY and Lighthouse Partnership Creates Employment Opportunities
In an August 9 press briefing held at The Chicago Lighthouse, Illinois State Treasurer Michael Frerichs announced that his office is partnering with The Lighthouse to provide customer support for the state's electronic banking and payment services.
Treasurer Frerichs noted that the partnership will ensure excellent customer service for individuals and units of local government using the state's ePAY services while supporting The Lighthouse's efforts to provide employment and job training for Veterans and people who are blind, visually impaired and disabled.
"This is an investment in people and in the power of possible," he said. "For more than a century, The Chicago Lighthouse has been inspiring individuals to their fullest potential."
Lighthouse customer care centers will answer questions about the treasurer office's ePAY program. Created in 2002, ePAY provides a safe, timely and competitively priced payment tool for units of local government that offer electronic payment of bills. ePAY accepts credit cards, bank cards and electronic checks either online or by telephone.
JetPay Corporation, based in Center Valley, PA, was selected as the service provider following a public bidding process. JetPay is a leading provider of vertically integrated solutions for businesses including card acceptance, processing, payroll, payroll tax filing, human capital management services, and other financial transactions.
"The confidence shown in our program by Treasurer Frerichs will raise additional awareness in the community about the excellent customer service provided by The Chicago Lighthouse," said Lighthouse President and CEO Dr. Janet Szlyk.