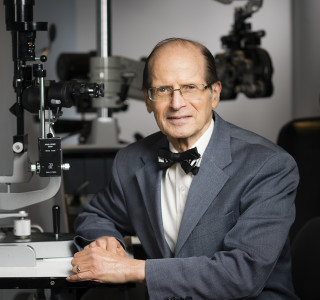 Lighthouse's Dr. Fishman Named Again as One of City's Top Doctors
Dr. Gerald Fishman, a world-renowned ophthalmologist, is recognized as an authority on inherited retinal diseases.  He is both a researcher and academic who directs The Lighthouse's Pangere Center for Inherited Retinal Diseases.  Dr. Fishman has been again named to Chicago Magazine's list of 100 Top Doctors.
"I am honored to receive this recognition from my distinguished colleagues," Dr.  Fishman said.  "I am very proud to be associated with a world class organization like The Chicago Lighthouse that is changing lives  with its innovative and cutting-edge programs."
Dr. Fishman also made Chicago Magazine's list in 2016 and 2013 and was listed as one of 2017's "Best Doctors in America," by the firm Castle Connolly.
Currently, he and his team of investigators and collaborators are pursuing a treatment trial on a blinding inherited retinal disease, known as congenital color blindness, by gene replacement therapy.  He and his collaborators have discovered several genes for various other inherited diseases of the retina. In addition to clinical based research, Dr. Fishman and his team are actively involved in the care and counseling of patients with numerous inherited retinal diseases.
A graduate of Ohio State College of Medicine in 1969, Dr. Fishman obtained his internship training at the Mt. Sinai Hospital in Cleveland, Ohio. He completed a three-year residency in Ophthalmology and a one-year fellowship in Ophthalmic Pathology in 1974 at the University of Illinois Eye and Ear Infirmary in Chicago.  Dr. Fishman spent the subsequent 43 years caring for patients and conducting clinical research on various forms of hereditary disorders of the retina including macular degeneration, retinitis pigmentosa, and other night-blinding diseases.  Dr. Fishman has published over 400 articles in major ophthalmic journals.