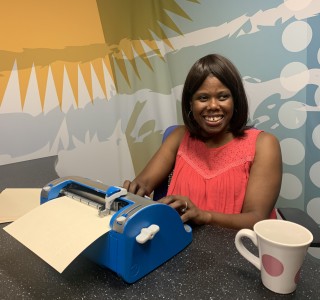 Coffee with Kalari: How to deal with Digital Inaccessibility without Losing your Mind!
This article is part of a weekly series written by Kalari, a writer, athlete, mother and employee of The Chicago Lighthouse who is visually impaired. She shares her perspective on a variety of topics in order to build community.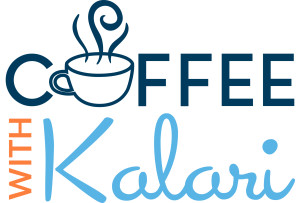 Everything is done on the Internet these days. You can order groceries, takeout, clothing and other things. In fact, everything imaginable is ordered online. If you are not using a website to order items, you are using a app.
Everything has become so digital and this is the way of the world. Imagine trying to navigate a site or app and it not being accessible. I cannot tell you how many times I have had just a portion of a page be accessible when other parts are not. This has happened to me multiple times. I do not care how many times I go through this; each time feels more frustrating than before.  I can't tell you how many times I had been in the middle of making a purchase and the checkout section is inaccessible, or the part of the site where you select different products. Every time I go through this, I feel so frustrated.  When you have these experiences multiple times in a day, you are ready to pull your hair out.
Often, I found when this happens, you have to switch between different screen reading software. I primarily use JAWS when I navigate the internet. Many times, JAWS may not be accessible with different websites, so I find that I have to utilize another screen reading software, NVDA. I found that usually what JAWS can't read, NVDA can. This is a pain, however, because I have to switch screen readers within a single website. I feel like one must be versatile in both to successfully navigate the Internet as someone who is blind.
When I am not struggling with various websites, I find that I experience issues with using different apps. I am an iPhone user so I use VoiceOver, which reads text on the screen out loud. Even though VoiceOver is very accessible with different apps, with some apps it is not and causes me to get stuck within certain parts of an app.  When this happens, I have to turn VoiceOver off, blindly swipe at the phone, turn VoiceOver back on and hope I got past whatever part of the app was holding me up.   As you can imagine, this can be pretty aggravating.
I am happy to see that some businesses are making accessibility a priority. I think many times accessibility on digital platforms is the last thing businesses think about, but I am happy to start to see change. Many organizations are taking charge of this issue and are making businesses more accountable.  I am happy to say that The Chicago Lighthouse is one of those organizations helping businesses improve digital accessibility through their Digital Accessible Experience Consulting Services.    This program oversees helping businesses websites become more accessible, which is a relief for people such as myself.  We have to keep fighting and pushing for change so that all websites and apps can be accessible. As this movement is progressing, I am grateful to have my friends in IT at The Lighthouse to call on!
What challenges have you faced with navigating different websites and apps?  I would love to hear some of your struggles and successes while cruising the Internet!
Back to top