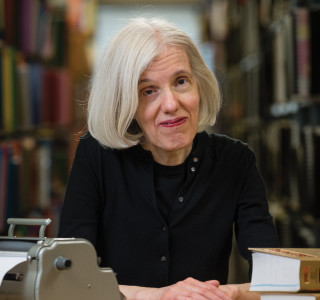 Women's History Month: Profile of Carol Anderson, Attorney
In observance of Women's History Month we are profiling several outstanding women who have made unique contributions to The Chicago Lighthouse since it was established 110 years ago. This one showcases Carol Anderson, an attorney in our Kane Legal Clinic.
Through her intellect, compassion and love for helping others, Carol is an ideal goodwill ambassador for The Lighthouse's Kane Legal Clinic. The clinic is the only program in the nation providing legal services exclusively to people who are blind or visually impaired at no charge.
After all, she studied French and earned her bachelor's degree from the prestigious Wellesley College in Massachusetts. Carol then went on to receive advanced degrees from two other top-tier schools; a master's in French from Stanford University and an MBA from the University of Chicago, respectively. Further earning a law degree from the U of C, her goal was to pursue a career as an international banker.
However, her life took many twists and turns. Today, Carol is a mainstay in the Kane Clinic, where she serves as the first point of contact for countless individuals from across the state who are seeking to address a wide range of legal problems.
"This is a special place to work because we provide a service that most blind or visually impaired people can't find anywhere else," she notes.
Carol adds that the fact that both she and the clinic's director, Paul Rink, are totally blind enables them to bond much more closely with the clients.
"Many of the people we serve are in need of lots of help," she observes. "So Paul and I, along with our colleague Cacia Sit, who serves as administrative assistant, promote an environment that is warm and friendly yet professional."
In her role, Carol screens every call, listens to the legal problems, provides preliminary advice and prepares case summaries for Paul. In addition, she assists with the preparation of legal documents.
Asked what issues tend to be most pressing among the clients, she responds, "social security disability, personal injury, employment and housing."
"I also answer basic questions such as how a blind person can arrange their paratransit or sign up for programs from the Illinois Department of Human Services," she states. "Another thing we do is provide referrals to law firms and other legal clinics."
"Carol does an amazing job for us," Paul says.  "She has great people skills, has a sound understanding of the law, is extremely conscientious and is a most pleasant person to be with!"
Carol maintains that organizations like The Lighthouse are a critical resource for the blind community and a major reason why people who are visually impaired should never give up.
"I am grateful that there is a place like The Lighthouse that has literally changed my life by offering me new hope!"