Sandy's View: My Message to All College Students with Vision Loss
In the fall of 2005, I was going through two major life events: my 18th birthday and my senior year in high school. Undoubtedly this meant I had to start thinking more seriously about my future goals and aspirations, not that I had never thought about these things before! I remember that as a child my parents always set high expectations, so going to college or at the very least finding a job was always in my horizon. For my parents, the fact that I was blind would not hinder my ability to have a career and become independent. Naturally this meant I acquired the same mindset. There was just one caveat: we were not sure where or how to look for resources for college bound students with visual impairments.
With the assistance and guidance from my teacher of the visually impaired, I started researching community colleges, four-year universities, financial aid resources, and basically all that is involved in higher education. I also had to carefully consider and research other aspects that sighted college students really never have to think about. Many questions crossed my mind, including: will my textbooks and other handouts be provided in braille or electronic format? How will I communicate my needs to professors? As the only blind student in my classes and dorm, will I be able to fit in with everyone and make new friends? How will I learn my way around campus? Are there financial aid resources for people with disabilities? Thinking back, I really did not know any current or recent college grads I could reach out to for advice. Social media was in its very early stages, so joining any online support groups was really not an option.
My time in college taught me much more than academics. Thanks to my own high expectations as well as those from others around me, I learned that I could achieve my dreams and goals of finding a job and career like everyone else. Because of this empowering mindset, I was able to realize my goal of working as a broadcaster and journalist. This is a job I truly enjoy and which has given me greater independence. However, I know all too well that other obstacles, such as a lack of financial assistance or other resources, can make pursuing higher education seem impossible for students with disabilities. Nowadays, there are many organizations and programs that believe in and support the education and independence of students with vision loss.
One of these is The Chicago Lighthouse's Scholarship Program. Established in the spring of 2004, this program is open to undergraduate and graduate students who are blind or visually impaired. Students must be residents in Illinois attending any school of higher education, or students from any state who are attending school in Illinois. Funds awarded may be used for all education related expenses, including tuition, assistive technology and on-campus housing. Additionally, all scholarship recipients are introduced to The Chicago Lighthouse's Employment Services Program. By participating in this program, students can obtain assistance with their job search and placement following graduation from college. In 2020, The Chicago Lighthouse awarded 24 scholarships totaling over $58,000 to students who are blind, visually impaired, or had multiple disabilities. Recipients attended institutions including the University of Illinois, Ohio State University, University of South Florida, among others.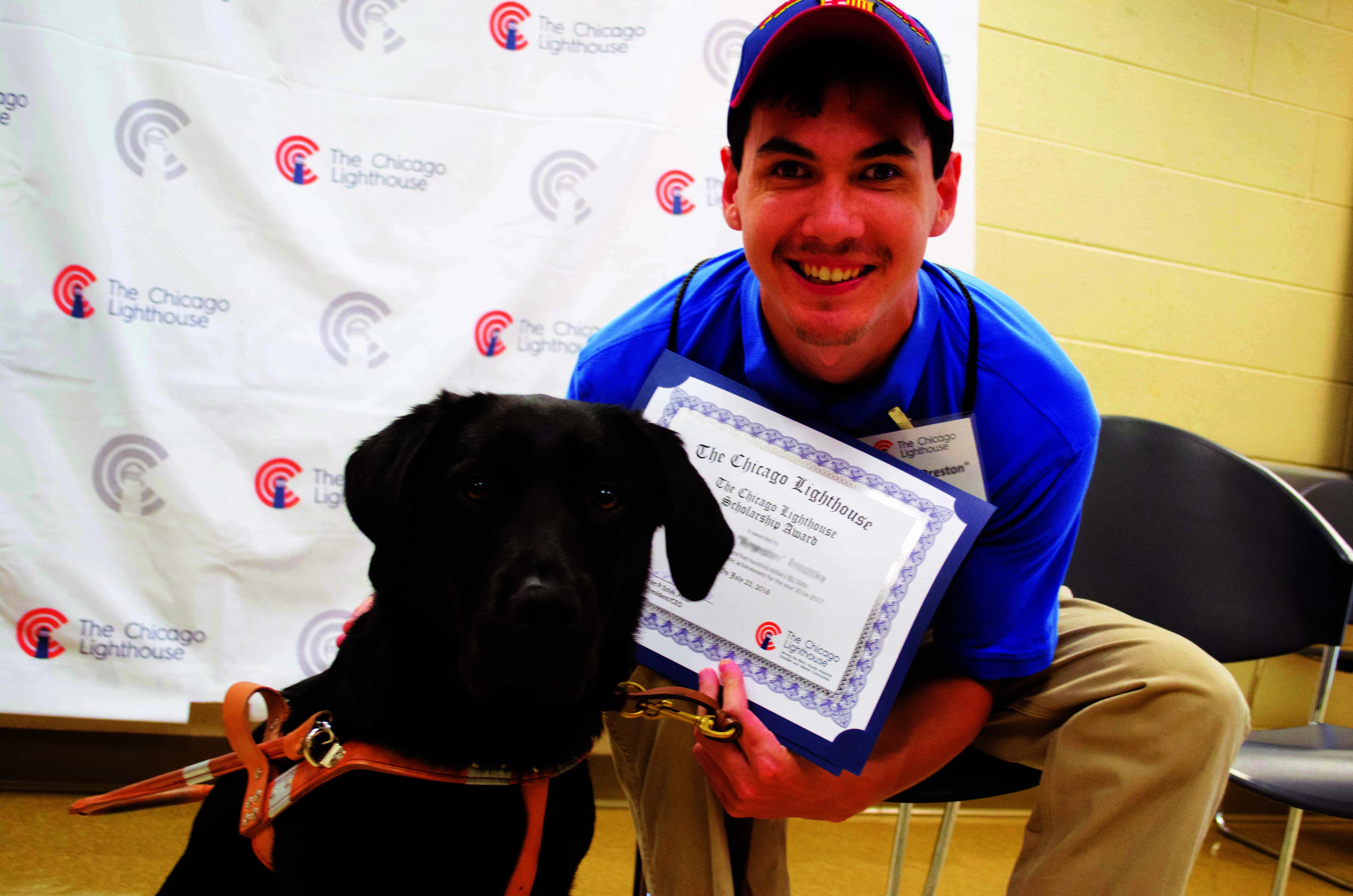 Scholarship funding may be used for education-related expenses, including tuition, technology, books, classroom materials, on-campus housing and other educational items.
Kelli Sloan is one of last year's scholarship recipients, and is working towards her master's degree in social work from the University of Pennsylvania. Kelli, who has been visually impaired most of her life, has received three scholarships from The Lighthouse. She will graduate this upcoming May, and says her overall plan is to one day help patients experiencing vision loss. Her internships working with organ recipients and patients with dementia inspired her to continue working in a healthcare setting after she graduates. For Kelli, the support she has received from The Lighthouse has been instrumental in achieving her goals.
"The Lighthouse has been just a really great support, financially through the scholarship but as well as through the community" Kelli says. She adds that it is particularly challenging to find financial aid resources for students pursuing degrees in social work.
The Chicago Lighthouse Scholarships Program is currently accepting applications for the 2021-2022 school year. If you are about to start college or are currently an undergraduate or graduate student, I encourage you to apply! Thanks to organizations like The Lighthouse and its generous donors, a lack of financial aid need not be a barrier to pursuing higher education. You can complete the application by going to https://chicagolighthouse.org/program/lighthouse-scholarship/. Applications are due on Thursday, April 1 at 9am central time. You can also email scholarship coordinator Maureen Reid at maureen.reid@chicagolighthouse.org or call her at 312-997-3655 if you need more information or have questions. Good luck to all!
Back to top