Accessible and Fun Summer Activities
Summer officially began a little over a week ago in the United States, and many activities and businesses are reopening after more than a year of being closed due to the COVID-19 pandemic. With vaccination in full swing and mask mandates being lifted, people are starting to partake in different summer activities. Like many others, I am eager to enjoy all that summer has to offer – summers in Chicago are always my favorite! From going to family gatherings, spending the day at an amusement park or other attraction, and attending performances in person or virtually, there is something for everyone. The following are some suggested activities and tips for making them accessible if you are blind or visually impaired. The resources and information is current as of this writing, and may change pending CDC and other state guidelines
Attending Family Gatherings, Outdoor Shows, and Summer Festivals
With Fourth of July only a couple days away, many people are preparing to enjoy parades, concerts, family gatherings and fireworks shows. People who use guide dogs will want to give careful consideration of whether or not to take the service animal with them. This is especially true in gatherings where there might be several children and pets, or if your guide dog is particularly sensitive to loud noise such as fireworks or live music. If you are planning to attend a parade, fireworks or other outdoor event with family and friends, it can help to research beforehand if the venue offers any type of accessibility. This may include large print program books or audio description. If you have low vision, it may also help to get to the location early so you can find the best seat and view. Finding out in advance what amenities, like first-aid stations or food stands, are available can also help you better plan for the visit.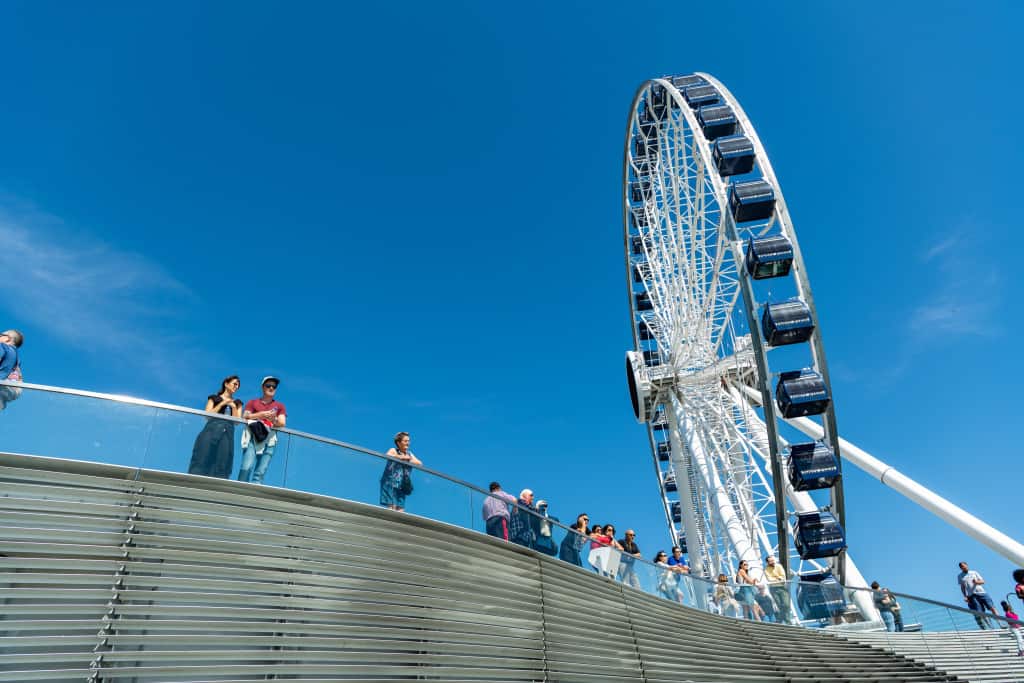 Going to Amusement Parks or other Attractions
Many amusement parks and other attractions, such as Six Flags Great America, the Navy Pier and the Shedd Aquarium, recently reopened after being closed for over a year. For people with vision loss interested in visiting these attractions, it is best to do research and call the locations ahead of time since the available accommodations differ and are constantly changing. The Shedd Aquarium, for example, offers limited tactile models of sea animals in some of their exhibits; however as of this writing, aquatic shows remain closed to the public. Similarly, while trained service animals such as guide dogs can accompany their owners throughout amusement parks and museums, certain areas are restricted. In Six Flags Great America, for example, a service animal cannot accompany its owner on most rides, and it must be supervised by a friend or family member.
Attending Virtual or In-person Performances
If you are not quite comfortable just yet partaking in outdoor activities and prefer attending virtual performances, many theatres and other venues continue to stream pre-recorded and live events that you can watch from the comfort of your home. Some local venues with virtual performances include Writers Theatre, Tellin' Tales Theatre, Chicago Children's Theatre and the Lyric Opera. Other theatres, such as The Second City and Auditorium Theatre, recently resumed in-person performances. As with the case of museums and other attractions, the availability of accommodations such as audio description or touch tours may be limited and subject to change under the current circumstances. It is a good idea to research and contact the theatre or venue you wish to attend well in advance so you can plan accordingly.
What other summer activities do you plan to enjoy this year? Are there any other tips or suggestions you would give to people who are blind or visually impaired so they can have fun and enjoyable experiences? Comment on this post, or email me your tips and suggestions to sandysview@chicagolighthouse.org. In our next Sandy's View post, I will share some helpful tips for safe and efficient air travel under the current circumstances as well as considerations to keep in mind as a person who is blind or visually impaired. Have a fun and safe summer!
Back to top