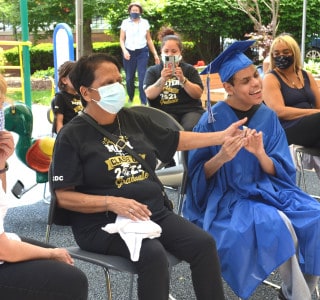 Meet Jesus, Class of 2021 Graduate!
When Jesus was a young child, his mom, Silvia was uncertain if he would ever learn how to talk or engage those around him. Born four months premature, Jesus has multiple disabilities including blindness, as well as developmental delays. When he was 8 years-old, Jesus enrolled at The Lighthouse's Children's Development Center, which offers a comprehensive K-12 education for students who are blind and have additional disabilities or are medically fragile. This past May, Jesus, now 22, proudly graduated.
Prior to coming to The Lighthouse, Jesus was nonverbal and unable to walk. He had no way of communicating his needs and wants to those around him. Although Jesus's home school district provided speech and physical therapy for several years, Silvia felt these services were not meeting his needs. Silvia learned about the Children's Development Center from Jesus's doctors at the University of Chicago, and the idea of him going to a specialized school gave Silvia hope for his future. As a student at the CDC, Jesus began receiving individualized therapy from teachers of the visually impaired and orientation and mobility specialists.
From the moment Jesus started at the CDC, Silvia began to see significant improvements. Jesus could let her know what he wanted, as well as his likes and dislikes. Jesus loved his classmates and teachers so much he would even ask on weekends if he could go to school.
"They loved my child very much. It made me so happy to see how well he was treated there," she says.
Though the past year's virtual learning brought additional challenges, Jesus continued to make progress. His teachers and therapists delivered special materials like books and calendars with tactile shapes to his home. David, Jesus's teacher, conducted class via Google Meets, and Jesus would use the materials for each lesson.
Now that he graduated from the CDC, Silvia is evaluating various day programs and other opportunities for Jesus. She is grateful for the education and support he received during his 13 years at the school. She feels he is well prepared for the next stage in his life.
"I cannot even imagine what my son's life would be like without the help of the school. He would have never learned as much as he did during his time there," she says.
Back to top