Scholarship Program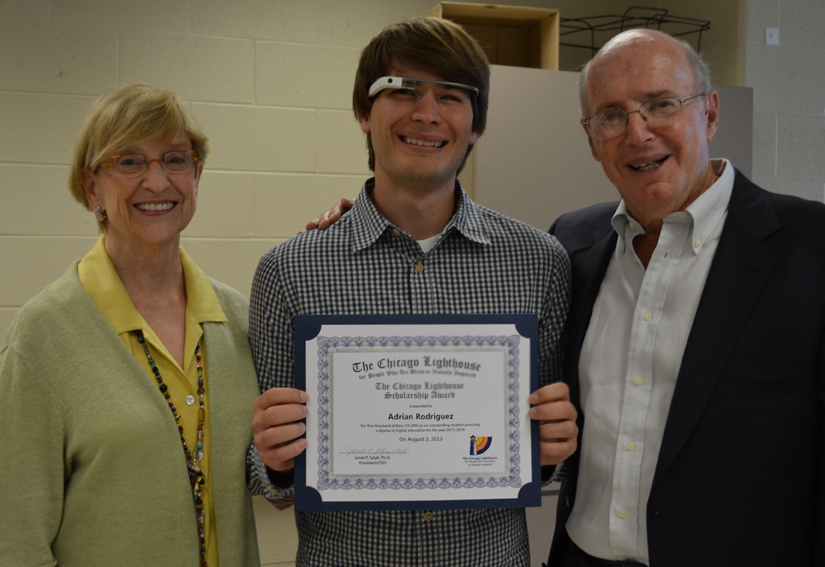 About
The Scholarship Program awards scholarships to college and graduate students who are blind, visually impaired, disabled and/or Veterans from Illinois attending any school of higher education, or students from other states attending school in Illinois, to obtain accredited certifications, Associate's, Bachelor's, Master's, and Doctoral degrees.
Since its establishment in 2004, our Scholarship Program has supported more than 400 students with significant scholarships to pursue their dreams of college education. Scholarship funding may be used for education-related expenses, including tuition, technology, readers, books, classroom materials, on-campus housing and other educational items approved by the Scholarship Committee.
**Application for the 2018-19 Scholarship Program is now closed**
---
Application Submission Materials

The scholarship application must be completed in one sitting. You cannot save your work and return. As a result, we highly recommend that you review the requirements before beginning the application.
Application
Includes personal information, academic institution information, employment experience, use of scholarship funds, etc.
Personal Essay
Please write an essay about your visual impairment or disability, background, educational aspirations and career goals. Discuss how a Lighthouse scholarship will help you achieve those goals. Include academic and/or activity achievements. Please be prepared to upload as a Word or PDF document at the end of the application.
Financial Statement of Need
Please describe in detail your economic need and how you plan to use the scholarship, if you are awarded. You need to be as specific as possible in order to receive a scholarship award. This part of your application is heavily weighted in your application consideration. Please be prepared to upload as a Word or PDF document at the end of the application.
Eye Report | Download Here
Please have your eye specialist download and complete the Eye Report. Previous scholarship recipients must submit a current vision report obtained within the last six months, regardless of whether we have one on file from a previous year. Once completed, scan the document and upload here. Please be prepared to upload a scanned, completed copy at the end of the application or ask your physician to send by mail.
Two Letters of Recommendation
Please ask the individuals writing your letters of recommendation to send all documents in Word or PDF format to the scholarship coordinator via email.
Official Transcripts
Official transcripts from the school you are currently attending must be mailed or emailed to the scholarship coordinator.
---
To learn more about additional scholarship opportunities not offered by The Chicago Lighthouse, please visit our Resource Guide.
---
For more information, or to request an accommodation to complete the application, please contact:
Maureen Reid
Scholarship Coordinator
(312) 666-1331 ext. 3655
Email Maureen
Related Links