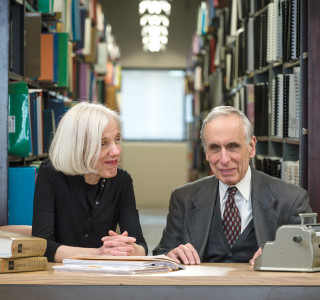 What Are Some of the More Common Legal Issues Encountered by People With Visual Impairments?
April 30, 2015
May 1 is recognized as Law Day in the United States. To honor this occasion, I spoke with the folks at our very own Kane Legal Clinic. Located at The Chicago Lighthouse, this clinic provides legal services free of charge exclusively to people with visual impairments; it is the first and only clinic of its kind in the Midwest.
Paul Rink and Carol Anderson, both attorneys at the clinic, discussed some of the more common legal issues they see at their practice. Please note that these topics and statistics only pertain to the Kane Legal Clinic, and do not reflect those seen in other law offices.
Employment Discrimination
About 10 percent of the cases seen at the Kane Legal Clinic are related to employment discrimination. These include individuals that were not hired, demoted, or terminated due to disability. Employment discrimination cases also encompass discrimination in education settings, when the individual is receiving training to become employed.
According to Paul Rink, senior attorney and director of the clinic, this form of discrimination may arise because employers don't want to spend money on additional equipment. They might also assume that the person who is blind or visually impaired simply will not meet the job qualifications.
"The blind person has to be ready always to prove that he or she can meet the job qualifications if they have the proper tools to do it, and generally those tools exist," Paul said.
Social Security
Also at around 10 percent, cases related to Social Security benefits are commonly seen at the Kane Legal Clinic. These cases often involve Social Security Disability Income (SSDI) and Supplemental Security Income (SSI) benefits. Clients often come to the clinic asking for general advice about the application process and to receive assistance in filing appeals or negotiating overpayments from Social Security.
Carol Anderson, attorney at the Kane Legal Clinic, believes that confusion is often the main cause of these types of cases.  She says that very often applicants who are applying under the definition of legal blindness – and even doctors – aren't fully aware of the standards they need to meet in regards to their vision.
Another common mistake benefit recipients make is not being aware of the earnings limits allowed by Social Security. Not reporting these earnings can cause recipients to get notices of overpayment from the Social Security Administration.
Other common cases seen at the Kane Legal Clinic include those involving housing and general discrimination, personal property damage and theft, personal injury and identity theft. Attorneys at the clinic have worked on cases involving 23 areas of the law.
Both Carol and Paul believe that the best way for people – whether blind or sighted – to avoid many of these cases is through becoming informed about their rights and responsibilities. Being aware about any notices they might receive can also help.
"One of the best things that blind people can do is to read their mail and not ignore things," says Paul. He also said that it is by ignoring notices that situations worsen over time, and that good organization is key to prevent this from happening.
Special Invitation
The Kane Legal Clinic would like to extend an invitation to readers in the Chicagoland area to attend their next seminar about identity theft on Wednesday, May 6 from noon to 1 p.m. at The Chicago Lighthouse. Todd M. Kossow, assistant director at the Federal Trade Commission (FTC) Midwest Region, will discuss identity theft and how to avoid becoming a victim. To RSVP for this event or find out more about the Kane Legal Clinic, please call 312-666-1331 ext. 3137.
As always, thanks for reading, and we look forward to your questions and comments! You can email your questions to sandysview@chicagolighthouse.org.