Commentary: On President Obama's Commitment to People with Disabilities
Since his inauguration as the 44th president of the United States in 2009, President Obama showed a strong commitment to Americans with Disabilities. He was the first president to appoint a disability advisor, Kareem Dale, who incidentally is a former Chicago Lighthouse program participant. Speaking of the Lighthouse, then Senator Obama toured the facility in 2005, and urged Congress and everyone in the federal government to continue purchasing clocks from The Lighthouse and similar organizations. In 2010, President Obama elected former Chicago Lighthouse President and CEO Jim Kesteloot to serve on the Ability One Commission, whose mission is to provide employment opportunities to people who are blind or have other severe disabilities in the manufacturing and delivery of products to the federal government.
President Obama's efforts to work for and with Americans with disabilities went beyond Illinois and The Chicago Lighthouse. By signing the Affordable Care Act in 2010, people with disabilities gained access to healthcare, either through Medicaid, Medicare or other insurance. Also in 2010, President Obama marked the 20th anniversary of the ADA by signing Executive Order 13548, which calls for the recruiting, retention and hiring of more people with disabilities in the federal government. By October of last year, over 100,000 people with disabilities were working for the federal government.
In 2014, President Obama signed the Achieving a Better Life Experience, or ABLE Act, which will benefit millions of Americans with disabilities in the near future. Under this law, people with disabilities receiving Supplemental Security Income (SSI) can open special savings accounts where they can save up to $100,000 without risking their eligibility to Social Security and other benefits. Previously, those receiving these benefits could only have $2,000 or less in savings or other assets. During his administration, President Obama also signed into law the 21st Century Communications and Video Accessibility Act, which among other things will give greater access to media content with audio description and closed captions.
Throughout his eight years as president of the United States, President Obama demonstrated a strong commitment to Americans with disabilities. Social Security, better access to healthcare and more employment opportunities have always been pressing issues for those with disabilities, and President Obama's administration worked hard to address these concerns. Still, a lot more needs to be done so that people with disabilities have more opportunities and equal access, and we hope that the new administration and members of Congress will work with us to make them a reality.
---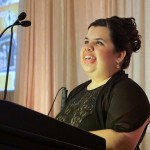 Sandy Murillo works at The Chicago Lighthouse, an organization serving the blind and visually impaired. She is the author of Sandy's View, a bi-weekly Lighthouse blog about blindness and low vision. The blog covers topics of interest to those living with blindness and vision impairments. Being a blind journalist and blogger herself, Sandy shares her unique perspective about ways to live and cope with vision loss.
Back to top