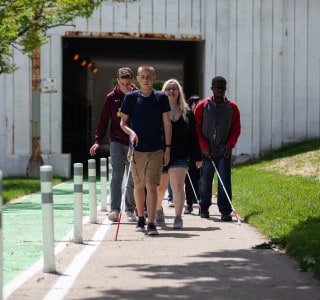 Youth Dive in for New Experiences During Summer in the City
"I drove a boat, I rode a bike for the first time…you gain a lot of new experiences, you gain your confidence, and you learn to do things easier than you did them before. I just had a really great time," said Nina, a participant of our Summer in the City program. Every summer, this week-long program at The Lighthouse provides youth who are blind or visually impaired with memorable experiences that build their confidence, independence, and introduce them to new friends.  This year, a total of 22 youth participated, with 11 in each of the two separate sessions.
Throughout their time in the program, the participants bonded with one another as they took field trips throughout the city, including a trip to iFly for indoor skydiving, a visit to the Looking Glass Theatre for a touch tour and performance of Frankenstein, and a day at the park in which they had the opportunity to play Beep Ball with the professional team Chicago Comets. They also learned how to cook a pasta meal, travel the city via public transportation, self-defense, and each made their own clocks with employees of Lighthouse Industries.
This year we also partnered with Tellin' Tales Theatre to create a new addition to our program to help participants learn how to tell their personal stories. "We find that through storytelling, the kids bond with one another and they also learn the really important skill of telling their own story which they can use throughout their lives in things like job interviews and in social situations," said Lindsay Porter, who worked with the students each day of the program. Their hard work shined through during the talent shows held at the end of each session. Prior to their performances, each of the youth shared with the audience what their act meant to them on a personal level. First-time participant Daniel moved the crowd when he shared the inspiration for a song that he played on the violin. "Life can sometimes be a battle…. We go through some hard stuff sometimes but in the end, we're victorious."
We extend our gratitude to all of our supporters who make these invaluable experiences possible for our youth.  "The Readers Digest Partners for Sight Foundation has been a wonderful partner with us, as well as our many individual donors who made this program possible so that our families and our kids don't have to pay to participate in these wonderful experiences," said Shelle Hamer, Manager of our Children and Youth Enrichment Programs. We are confident that all of our participants will thrive this upcoming school year thanks to all of the skills and experiences they gained this summer!