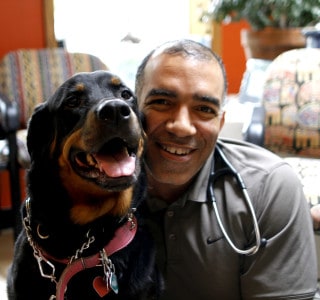 Local Vet Provides Free Care to Dog Owners Who Are Blind
"A marriage that's made in heaven!"
That's how Dr. Leonard Jewell, a Chicago veterinarian, describes the relationship between people who are blind and their service dogs.
To ensure that their animals stay healthy and will always be there for them, Dr. Jewell provides free care to any guide dog belonging to an owner who is blind.
"I'm not a very good businessman," he laughs, "but to me it is the right thing to do!" says Dr. Jewell, noting that unfortunately many individuals who are blind often don't have the financial resources that their sighted peers possess.
Doing things out of the mainstream is nothing new for the doctor who first opened his practice at 4501 N. Lincoln on Chicago's North Side back in 2007.
He was adopted at a young age and grew up in a loving family.  Dr. Jewell, in turn, developed a life-long affection for animals.
"Loving animals, especially dogs, has been in my DNA since I was a little kid," he smiles.
That love for our furry friends propelled him to a degree in veterinary medicine at Tufts University followed by numerous appointments in animal practice around the country before he opened his current practice in Lincoln Square.
Among his legion of satisfied customers is Maureen Reid of The Lighthouse's Employment Services Department.
"Dr. Jewell and his staff have gone out of their way to reach out to the community of dog guide users," Maureen notes.
She states that she first brought her dog Promise and now her new dog Gaston to the clinic.
"It is such a relief to work with a team that knows the special role that our dogs play in our lives, that they are a key to our independence," Maureen maintains.
"Just hearing Dr. Jewell's voice outside the door in the clinic makes me feel so happy," she observes.   "He just gets down on the floor with my dogs and treats them with such kindness."
Dr, Jewell's love for animals carries over to his home life where he and his husband own two dogs and two cats.
In addition, he admits to being a tennis freak who enjoys both playing and watching the game.
Dr. Jewell says how much he enjoys helping all his patients and their animals.  He encourages any person who is blind with a guide dog to come see him.
"I want every blind person who owns a dog to know about our free service," he maintains.  "In fact, if I see someone who is blind walking their dog, I am tempted to come up to them and drive them over to my clinic," he smiles.