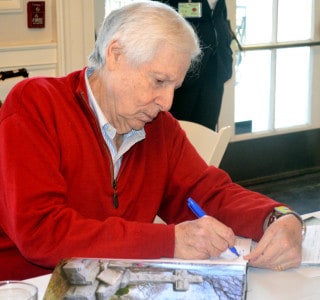 Lighthouse Board Member Launches New Book
Fresh from showcasing many of Chicago's most stunning memorials in 'Chicago Monumental,' Lighthouse Board Member Larry Broutman is back with a new book that highlights prominent sites and burial places in the city's leading cemeteries.
'Chicago Eternal' (Lake Claremont Press, $55) illustrates the final resting places of more than 300 Chicagoans with its extensive tour of 32 Chicagoland cemeteries. This 350-page hardcover book includes gorgeous photos taken by Mr. Broutman of notable gravestones, headstones, monuments, and markers alongside details about the deceased's life, achievements, and contributions, with a special section of 3D images at the end. 3D glasses are included with the book.
To celebrate the publication of 'Chicago Eternal,' a launch party was held at the Chicago Historical Museum on March 18.
Mr. Broutman is generously donating proceeds from the book to The Lighthouse.  Copies are now available at our stores and online via Amazon.