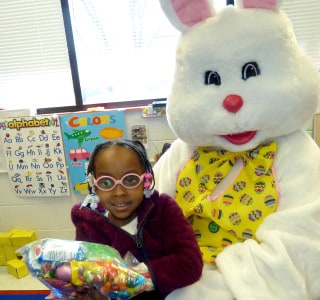 River Grove Lions Club Sponsors Special Easter Bunny Visit
Prior to starting their spring break, students in our Children's Development Center received a special visit from the Easter Bunny!
Sponsored by the River Grove Lions, the Bunny (Lion Brad Koresian) passed out candy and posed for photos with the children.  He was accompanied by Lions Ralph Zarada, Joe Paldo  and Todd Koresian.
"We are delighted to carry on this tradition, which is a nice fun activity for us," smiled Lion Joe, who has spearheaded the event for many years.  "We count our blessings every day and wanted to share our good fortune with these youngsters."
Thank you to the River Grove Lions Club for sponsoring this popular springtime tradition!