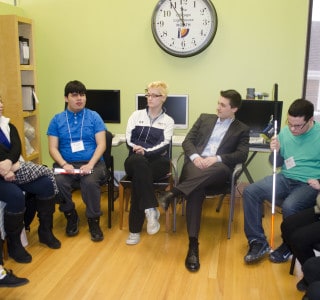 Career Fair Helps High School Students Learn What's Possible
High school students who are blind or visually impaired gathered at The Chicago Lighthouse North on March 16 for the 3rd Annual Career Fair. This special event is held as part of our Youth Transitions Program, which was started to help teens who are blind or visually impaired successfully develop into independent and confident young adults.
During the morning of the event, participants attended four Q&A sessions hosted by speakers from a diverse set of professions who are themselves blind or visually impaired. Speakers included Peter Tucic of the assistive technology company HumanWare; Samantha Smolka, a student and athlete at Northern Illinois University; and former scholarship recipient George Abbott, from the American Foundation for the Blind. Hearing from these speakers helped the students learn more about career paths that they may had not considered.
"It is one thing to be told by teachers about different possibilities, but it is another thing to hear from fellow individuals who are blind or visually impaired about these possibilities," said Shelle Hamer, Manager of Children and Youth Programs at The Chicago Lighthouse.
In the afternoon, speakers from Walgreens and Glenview State Bank spoke about the job opportunities provided by their companies. Maureen Reid of The Chicago Lighthouse's Employment Services department also spoke to students about scholarship opportunities. During the Career Fair, Lucio, a participant of the Youth Transition Program noted, "This is the best one yet, it gets better each year!" The Chicago Lighthouse is honored to have the opportunity to provide support to these young future leaders.