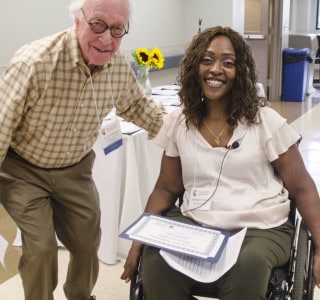 Michelle Henton: Finding Independence Through Her Job
"Sometimes there are so many limitations placed on us, that we start to believe them. For Michelle Henton, facing and overcoming limitations is nothing out of the ordinary. In 2001, she sustained a car accident which left her quadriplegic at the age of 22. During the next few years, Michelle had to relearn how to get around and be independent as a wheelchair user. Simple things like dressing and getting into a car were now some of her greatest challenges.
After receiving rehabilitation, Michelle returned to school and obtained her Associates Degree from Malcom X College in 2008. From 2009 to 2011, she used her life experience and story to mentor other individuals who had recently acquired disabilities at Schwab Rehabilitation Hospital. Michelle subsequently went on to earn both a Bachelors and Master's degrees in Psychology from Roosevelt University.
Following her graduation in May of 2018, Michelle learned about The Chicago Lighthouse's Employment Services Program from her rehabilitation services counselor. What struck Michelle most about The Lighthouse was the wide variety of services offered to people with disabilities under one roof, as well as the empathy and camaraderie she received from staff and program participants. While at The Lighthouse, Michelle worked with our Employment Services staff to find job leads that would fit her skill set and abilities. She also learned how to build her resume and get ready for that much awaited job interview.
Michelle now works as a Guidance Consultant at ComPsych, and this November marks her first year anniversary on the job. She has a job she enjoys and that provides her with greater independence. Michelle credits the assistance of Lighthouse staff, as well as her employer for being extremely helpful and accommodating. This past summer, Michelle gave the keynote speech at The Lighthouse's Scholarship Ceremony and encouraged students and their families to work hard towards achieving their goals and overcoming challenges. You can find out more about The Lighthouse Scholarship Program here or to make a donation, contact Jennifer Miller at jennifer.miller@chicagolighthouse.org or (312) 997-3643.
Michelle encourages employers to have an open mind and hire people with disabilities. She also hopes that more individuals with disabilities will look past their limitations.
"Just know that if you think you can, you can. You may not be able to do it how everyone else can do it, but you can definitely find and alternate route," she says.