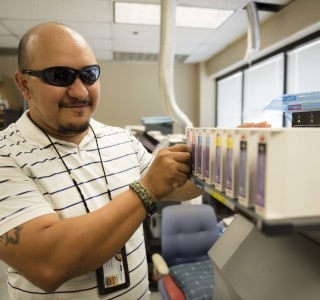 Hiring Individuals with Disabilities Makes Business Sense!
As we celebrate October as National Disability Employment Month (NDEAM), it is a perfect time to highlight the benefits of hiring individuals with disabilities.  Observed each October, NDEAM celebrates the contributions of workers with disabilities and educates about the value of an inclusive workforce.
Individuals with disabilities are currently an underutilized labor pool in the U.S.  More than one in five people have a disability, but only one-third of working age people with disabilities are employed.  The Chicago Lighthouse's Employment Services Program is working to close that gap. The program prepares candidates for employment every step of the way, from resume writing and mock interviews to on-the-job training, and educates prospective employers on how to be inclusive of people with disabilities.
"Hiring qualified candidates with disabilities is a sound investment," said Martha Younger White, Senior Vice President of Employment and Rehabilitation Services at The Chicago Lighthouse. Workers with disabilities bring a variety of skills to the workplace, such as creative thinking, problem-solving and collaboration, and contribute to an organization's success by bringing unique perspectives and experiences. They are also reliable employees and have an overall higher retention rate. In fact, a U.S. Chamber of Commerce study revealed that workers with disabilities had an 80% lower turnover rate.
Businesses that hire people with disabilities may also receive tax credits and other incentives. For example, the Work Opportunity Tax Credit (WOTC) provides a tax credit of up to $2,400 for each new qualified worker. Credits are also available to cover the costs of making a business accessible. Learn more by visiting IRS.gov.
As an employer of people with disabilities, The Lighthouse experiences the great value members of this community bring to the workforce every day, and encourages other employers to open their doors to an inclusive workforce.  For additional resources on hiring individuals with disabilities, click here.