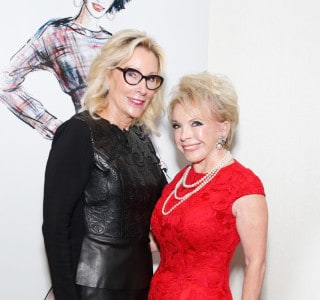 New Board Member Brings a Touch of "FLAIR"
Fresh from her stint as co-chair of The Lighthouse's highly successful 2018 FLAIR. Fun. Fashion. Philanthropy event, Sheree Valukas is taking on a new role, member of our Board of Directors.
"I have a passion to help people who are blind," Sheree said, pointing out that although she is not visually impaired herself nor is anyone in her family, the cause strongly resonates with her.
She stated that her work on FLAIR with Lighthouse staff members along with conversations she had about the organization with her close friends, Cookie Cohen, Vonita Reescer and FLAIR co-chair Sherrill Bodine, whetted her appetite to get further involved.
"While I already knew about the good work The Lighthouse does, I got hooked after spending time with several program participants and hearing first-hand how their lives were changed by the services they received here."
Sheree, vice president of sales at Mary Cook Associates, a national interior design firm, is no stranger to community service.  She serves on the board of managers of the Service Club of Chicago and the costume council board for the Chicago History Museum.
"We are absolutely thrilled to welcome Sheree to our Board," said Lighthouse President and CEO Dr. Janet Szlyk.  "Not only is she an accomplished professional with an impeccable sense of style but her creativity, enthusiasm, and total commitment to the people we serve will make her an extraordinary addition!"
Noting the importance of securing employment opportunities for individuals who are blind or visually impaired, Sheree commended The Lighthouse for its efforts in job creation through its development of several customer care centers, which in turn, have created hundreds of new positions.
Acknowledging that the agency faces many challenges in accommodating the changing needs of the blind and visually impaired communities, she maintained that The Lighthouse will be up to it.
"Time and again, this organization has shown a knack for coming up with an innovative and timely solution to a complex problem," she pointed out.
"Whether it was developing a legal clinic to assist individuals who are blind facing discrimination or creating a blended preschool to bring together students who are both sighted and visually impaired, The Chicago Lighthouse has always been an innovator and problem solver.  As a new Board member, I look forward to rolling up my sleeves and doing whatever I can to help," Sheree said.
In addition to her full-time job, Lighthouse service and other community activities, she enjoys spending time with her husband, family, friends and favorite dog, Mercury.  She also loves to travel, especially to Italy, and to play golf with her husband and friends.
"I try to get as much as I can out of life and have fun," she smiles, adding "if I can't have fun, I won't do it!"