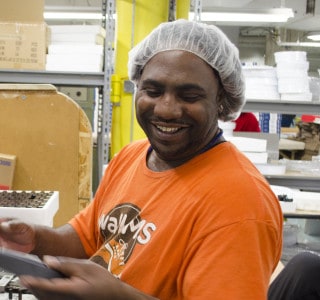 Lighthouse Industries' Yannick Hill Nominated as an NIB Employee of the Year
Citing his outstanding work ethic, positive attitude and willingness to always be a team player, Yannick Hill, a wall clock assembler with Chicago Lighthouse Industries, has been nominated as a National Industries for the Blind (NIB) Employee of the Year.
Established by Congress in 1938, NIB focuses on enhancing the opportunities for economic and personal independence of people who are blind, primarily through creating, sustaining and improving employment.
Hill, who is totally blind, has been with the Industries program for the past nine years and has consistently earned high marks for his productivity.
Responding to his selection, Hill said:  "I am deeply honored to have been nominated as an NIB Employee of the Year and am most appreciative to The Chicago Lighthouse for giving me the opportunity to work."
He will be honored, along with other nominees from across the country who are blind or visually impaired, in a special recognition ceremony taking place in Washington, D.C. later this year.
"Yannick possesses all the attributes of a successful employee and is most deserving of this high honor," said Milan Jerken, customization manager with Lighthouse Industries.  "Not only is he able to get the job done, but because he maintains such an upbeat attitude, he is an extremely positive influence on his co-workers."
A native Chicagoan, Hill, 39, attended Columbia College and Curie High School.  He has done assembly work at other places, but found his niche with Lighthouse Industries.
Cognizant of the high unemployment rate impacting the blind community, Hill expressed appreciation to The Lighthouse for giving him a job.
"I know that many other people who are blind are unemployed so I am very grateful to be earning a weekly paycheck!"
He describes himself as a "down to earth kind of guy" who enjoys watching TV and movies with his 10-year-old son, Makian.
Hill indicated that he plans to keep on working at The Lighthouse for as long as he can.  "They treat me like family here.  Why would I want to leave?"
Back to top