Lighthouse Employee Notes How Her Job Led to Greater Independence
As the nation prepares to celebrate Independence Day, one Lighthouse employee who is visually impaired reiterates the importance of independence for people with disabilities.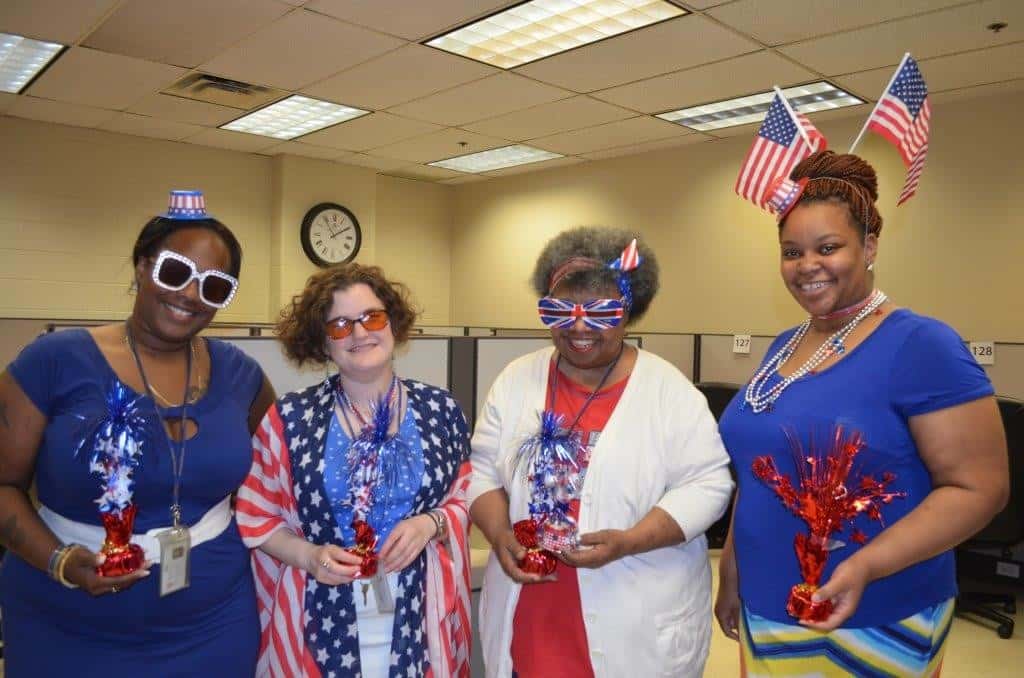 Carly (second left) celebrates Independence Day with her colleagues at The Chicago Lighthouse!  Shown left to right are Kameshia Damon of the Advocate Customer Care Center; Carly; Deborah Miles of the Cook County Customer Care Center; and Meredith Hubert of the IDFPR (Illinois Department of Financial and Professional Regulation) Customer Care Center.
A native New Yorker, she praises the independence enjoyed by employees with disabilities at The Chicago Lighthouse as well as the overall accessibility of the city of Chicago.
"Chicago is relatively easy to navigate," says Carly Englander, a former resident of Long Island, New York, who works as an agent in The Lighthouse's IDFPR (Illinois Department of Financial and Professional Regulation) Customer Care Center.
Carly, who earned a Master's degree in rehabilitation counseling from Hofstra university, also admits to coming to Chicago for greater job opportunities.
"I left New York and came to Chicago for a better job opportunity and I found it at The Chicago Lighthouse," she smiles.
Carly credits the people skills she honed while working in a Queens, New York public library, for helping her to excel in her present job.
"I really enjoy my work and the opportunity to help callers and in the process, learn something new every day," she says.
A key to being an effective customer care center agent, Carly believes, is to put yourself in the shoes of the caller and try to identify with them.  "If you develop that mindset, that will help you better connect with the caller, who in turn, will appreciate that you are doing your best to help them with their problem."
She also is impressed by the independence people with disabilities enjoy at The Lighthouse.
"Employees with disabilities like myself are treated respectfully here and have opportunities for personal and professional growth, including management positions, " she maintains.
Back to top