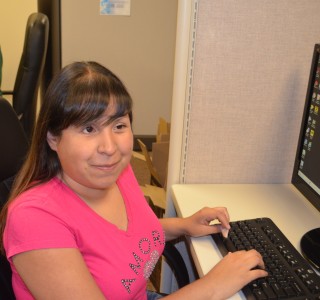 Meet Jessica Lopez: From Lighthouse Intern to Customer Representative
She has dreams of pursuing a career in law enforcement and criminal investigations.  She hopes to relocate to Colorado to enjoy that state's natural beauty.  Her hobbies include watching horror movies!
Meet Jessica Lopez, a Customer Representative for the UI Health Customer CARE Center at The Chicago Lighthouse.
Jessica has won high marks for maintaining a friendly demeanor, being well-informed and possessing a willingness to always go the extra mile for her customers.
"I love being able to interact with a wide variety of people and help them in their time of need," she smiles.
Her duties include  scheduling appointments and answering questions about a range of topics from parking to insurance.
A graduate of Walter Payton College Prep, Jessica is now majoring in Criminal Investigations and International Affairs at Harold Washington College. She has plans to finish in 2016 and continue on to get her Master's in Criminal Investigations at Chicago State.  Her long-term plans are to relocate to Colorado because it has a top notch forensics program as well as many scenic wonders.
Jessica credits The Lighthouse for giving her invaluable experience in being able to perform a variety of tasks and for enabling her to gain a great deal of self-confidence as well as to make many new friends.
After starting out as a summer intern here, she went on to work at the IDFPR, Informis Healthcare Solutions and Advocate Customer Care Centers as well as our Low Vision Clinic before obtaining permanent employment at the UI Health Customer Care Center.
Her outside interests include shopping, listening to music and reading books.
For others coping with a disability, Jessica tells them to maintain a positive attitude.
"Always be willing to reach out for new opportunities and don't be afraid to advocate for yourself and show what you can do!"