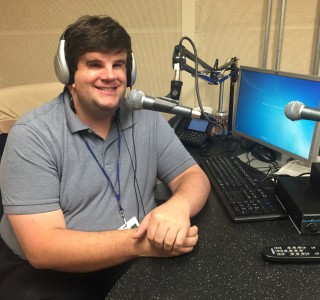 Production Intern, Visually Impaired, Gets Career Boost at Lighthouse
August 19, 2016
Meet Brett Shishkoff, the production intern who's making a big splash working with The Lighthouse's CRIS Radio program.  Born with Bilateral Retinoblastoma, a form of cancer that affects the eyes, Brett lost his remaining vision two years ago.  Despite only retaining light perception, he's never let his blindness slow him down.
A patient of our internationally respected ophthalmologist, Dr. Gerald Fishman, Brett decided to get more involved with The Lighthouse after hearing a presentation about our employment programs at his residence at Friedman Place.  From there, the talented young man, who graduated from the Institute of Production and Recording in Minnesota, recently joined our CRIS Radio program as an intern. In this role, Brett helps arrange guest interviews and conducts research around the city on the latest trends in accessibility.  As an avid Chicago Blackhawks fan, he also co-hosts a weekly sports show, The No Look Pass, alongside CRIS producer Brian Hawkins.
Brett attributes his success to a positive outlook on life, an active lifestyle and a strong desire to keep learning.
"This is my first professional internship, and it really feels like I'm making a difference," he said. "I'm so grateful to The Chicago Lighthouse for giving me this amazing opportunity!"
In his spare time, Brett enjoys films, sailing, swimming and music.  If you ever visit The Lighthouse, be sure to check out this rising star!