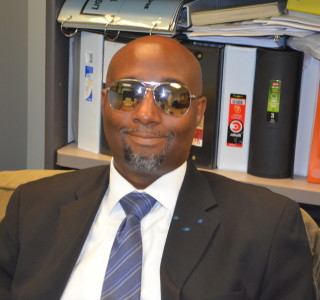 Music Producer & Entrepreneur, Totally Blind, Credits Lighthouse for Confidence to Launch Vocational School
August 17, 2016
Those who don't see, can still see music!
That underlying premise propelled a local music producer and entrepreneur, who is totally blind, to launch his own recording studio and vocational school, I See Music.
Beecher, Illinois resident Byron Harden credits The Chicago Lighthouse for playing a major role in giving him the tools and self-confidence to make it happen!
"For as long as I can remember," he smiled, "music has been a major part of my life.  It gives me immense satisfaction to create songs and receive compensation for my creative efforts."
The fact that Byron has been functionally blind since the age of 7, due to consequences arising from Steven Johnson Syndrome, did not stop him from pursuing his dreams.
After receiving care from the Illinois School for the Visually Impaired and the Illinois Department of Rehabilitation Services, he was referred to The Lighthouse.
Patricia Rodriquez, currently the Clinic Customer Relations Supervisor in our Low Vision Center, first welcomed Byron.
"From the very first time I met him, I could sense a certain charisma and passion about the man," she recalled.  "He has an easy-going personality but a steely desire to succeed at whatever task he takes on."
For Byron, his association was like a "marriage made in heaven!"
He noted how helpful and how genuinely caring Patricia was.
"I can't say enough good things about her," Byron said.  "She explained to me all the services that were available at The Lighthouse, including the assistive technology products, suggested resources that could help, answered all my questions and helped give me a renewed sense of hope for the future."
He looks back on his Lighthouse experience as a "game-changer," which helped motivate him to launch  I See Music.
"Though we may not be able to see, many of us have a deep-seated desire to create and record music without depending on our sighted counterparts," Byron observed.
His firm, based in suburban Beecher, serves as a resource tool for musicians, songwriters, composers, producers and engineers who are visually impaired.
"We have found a niche because there is no other program available that educates engineering professionals who are blind or visually impaired," he maintained.
Byron, who is upbeat by nature, expresses optimism about the future long-term prospects of people who are visually impaired.
"You can't underestimate the tremendous impact that technology is having and will continue to have in unlocking doors for us," he stated.  "Therefore, we must maintain a positive attitude and never give up on ourselves!"
Back to top