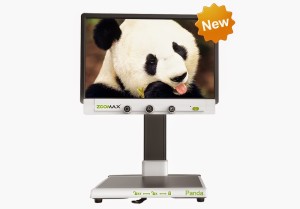 Zoomax know how to 'Panda' to their audience….
The Lighthouse has just received a new desktop CCTV from Zoomax, the company who introduced the Butterfly, Snow and Snow 7 HD electronic handheld magnifiers, and we like. 

The CCTV is called the Panda and comes in a striking black and white color scheme (hence the name!). Containing all the features you would expect such as 17 different color modes, 2x-70x magnification and a 19″ monitor, the Panda is an attractive CCTV with a good image and is really easy to use.

And now for the best part (drum roll please)…..the Panda retails for just $1695! That's a great price for a quality CCTV like this and makes it one of our favorite choices for an entry level, good quality unit. 

Easier to look after than a pet Panda, the Panda CCTV might be just what you or a loved one is looking for!


Back to top