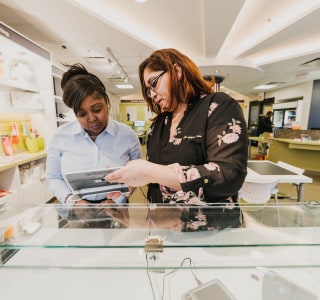 Lighthouse's Tools for Living Store Offers Unique Holiday Gift Ideas
During this special season of giving, The Lighthouse's Tools for Living Store has a wide variety of items that would make excellent gifts for individuals coping with vision loss.
"Our store has an assortment of assistive devices for helping keep track of the time, including a new line of fashionable low vision watches," notes Luke Scriven, assistive technology manager.
"Our latest design is also our largest and includes a Velcro strap, making it easy to take on and off." Scriven says, adding that the store also carries the Talking Clock Keychain and Atomic Talking Clock And Calendar, both of which read the time aloud and set alarms at the push of a button.
After the morning alarm has gone off, the 10X LED Travel/Home Mirror is an especially great gift to help people experiencing low vision with daily grooming.
"The 10X magnification and the LED lights help users maximize their remaining vision and is also extremely portable at only one inch thick and seven inches in diameter," Scriven points out.
Noreen Costello, Retail Sales Lead for the Store, suggests another gift, the Writing Guide Pack that can help make essential daily tasks much easier for people with low vision.  "The pack includes plastic guides for signatures, checks, and full sheets of paper, an ILA bold pen, and a sample of bold-lined writing paper," she says.
In addition to items that are practical, the store offers a variety of gifts that entertain.
Among them are The Lighthouse's large print playing cards and cards with Braille to ensure that everyone is able to join in the fun this holiday season and beyond.
"There is no greater gift than being able to live independently," Scriven maintains, "and that is what you can give with a gift from our store this season."
To learn more about these products and to explore other gift ideas, visit the store's website.  Any orders over $35 will receive free shipping.
Back to top