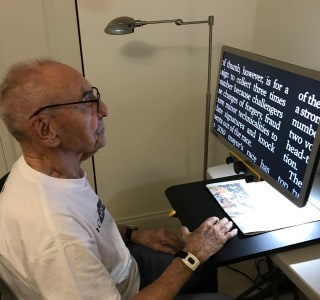 96-Year-Old Veteran Finds New Hope Thanks to Lighthouse Assistive Technology
Although he will soon turn 97, he still is vigorous and even plays golf!  When asked how he can stay so active at such an advanced age, he smiles and says, "attitude!"
For Irving Kannett, a native Chicagoan who currently resides in Glenview, having the right attitude has motivated him his entire life. From his time in the U.S. Army during World War II when his courage earned him a Bronze Star for his combat in Okinawa to his success in establishing his own business in product development.
Now Mr. Kannett's stick-to-it approach is helping him successfully cope with severe vision loss, with help from Chicago Lighthouse North.
He was referred to The Lighthouse by Dr. Jack Cohen and received treatment through the Veterans Lotto Grant, which the organization received as part of its commitment to serving ex-military men and women.
"I was in a state of despair because I had so much trouble reading print," Mr. Kannett recalls. "Then I came to The Lighthouse where I received training on how to use a CCTV.  That device has literally changed my life.  I could read again!"
Mr. Kannett praises Melissa Wittenberg, senior director of Chicago Lighthouse North who trained him on the device, for her patience, professionalism and friendliness.
"Ms. Wittenberg, Occupational Therapist Laura Hayes and the rest of the staff were fabulous," he says. "I have had one of the best experiences in my entire life with The Chicago Lighthouse and would recommend them to anyone!"
With the boost to his self-confidence, Mr. Kannett plans to stay active and continue doing the things he enjoys, especially reading. Books about travel and history are among his favorites.  He would also like to travel whenever feasible.
A recent high point for him was being chosen to participate in an "honor flight" to Washington D.C. where he had a chance to visit the World War II memorial and other attractions.
"My hope is to stay as young in spirit as I can," he says, quoting Ashley Montagu, the British scientist, who famously said, "The goal in life is to die young as late as possible!"
Back to top