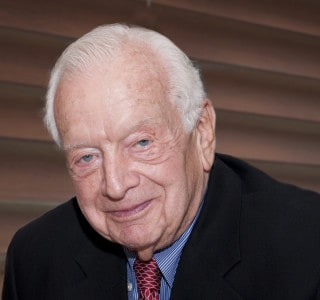 Lighthouse Board Member Walter Nathan Remembered for Passion and Generosity
A successful entrepreneur who built a global business.  A U.S. Navy Veteran who served his country with great distinction during World War 11.  A prominent civic and community leader who championed many worthwhile causes.
Walter Nathan wore many hats in a long and honorable life that lasted 95 years.
For The Chicago Lighthouse, Mr. Nathan who passed away on November 24, was a dedicated and passionate Board Member who was also a generous supporter.
"Walter was a dear friend of The Lighthouse who was always willing to go the extra mile for our organization and the people we serve," said Lighthouse President and CEO Dr. Janet Szlyk.  She noted that Mr. Nathan and his wife of 68 years, Ann, not only were enthusiastic backers of our galas and other events, but his company, RTC Industries, created the custom displays for our new fashion clocks that are on sale at select Target stores.  "We are deeply saddened by his passing but are greatly enriched by having known him and have him as an important part of our Lighthouse family."
Born in Frankfurt, Germany on August 13, 1923, Mr. Nathan studied in Belgium and immigrated to Chicago in 1938.  He was founder and chairman of RTC Industries, which he successfully built into a global enterprise, and today has 28 facilities worldwide.  In addition to his Board service with The Lighthouse, he was a long-time national leader of the American Jewish Committee and a Trustee at the Illinois Institute of Technology (IIT), his alma mater, where he was a Director of the Institute of Design.
A memorial service was held for Mr. Nathan on November 26.  The Lighthouse was honored to be among four designated charities to receive contributions in his memory. He will be greatly missed at The Lighthouse.