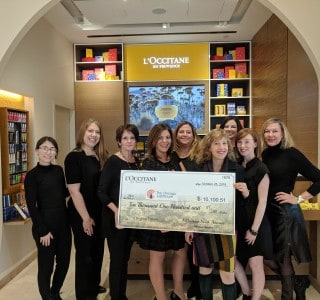 L'Occitane Gives Generous Donation to The Chicago Lighthouse
French-based beauty and skincare chain L'Occitane recently donated $10,100 to The Chicago Lighthouse! The company raises funds every year for organizations that address blindness. They recently hosted their North American Customer Experience Conference in Chicago and invited The Lighthouse to give a presentation so that their staff could learn more about our Children's Programs. "Here at L'Occitane, we are committed to fighting preventable blindness and supporting our local communities. Being that our conference was held in Chicago this year, The Chicago Lighthouse was a perfect fit," stated Ana Volaric, Senior Sales and Merchandising Manager.
After the conference, the company raised funds for The Lighthouse by selling raffle tickets. Members of the L'Occitane team presented the donation check to Lighthouse Chief Development Officer Jennifer Miller on October 24 during the ribbon cutting of their new store at Old Orchard Mall. This donation will benefit our Birth-to-Three Early Intervention Program and our Judy and Ray McCaskey Preschool. We cannot thank L'Occitane enough for their contribution and partnership!