Sandy's View: My Top Four Tips for Making Virtual Meetings Accessible for People Who Are Blind or Visually Impaired
At the start of the COVID-19 pandemic, we all needed to adapt to a virtual world in a matter of days. From work meetings, to special events, to informal get-togethers with friends and co-workers, virtual meetings have become the norm in all types of settings. Prior to the pandemic, many of us had attended meetings through Skype, Zoom or via telephone, but at least in my experience they were very few and far between. Now that I have hosted and attended several virtual meetings and events, I would love to share with you some tips I have learned along the way to make these gatherings more accessible to individuals who are blind or visually impaired.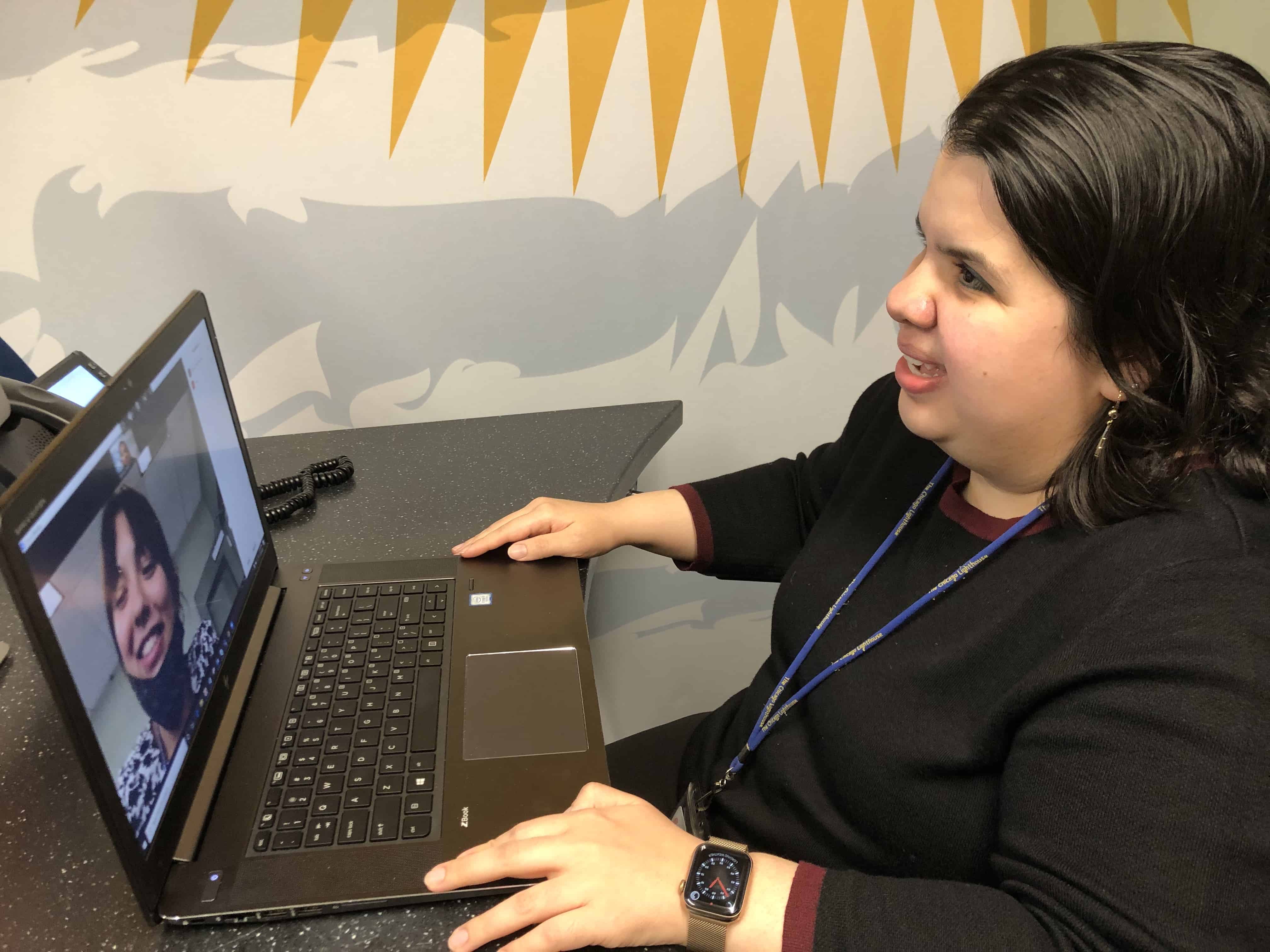 Thanks in great part to modern technology, we are able to work and do other activities safely during the COVID-19 pandemic. For this reason, it is especially important now than ever before to make digital technology accessible to everyone.
Tip #1: Make sure that all the information you share in the meeting can be easily read.
This includes the meeting's access link or telephone number, as well as any text you might share on screen as part of the presentation. Make sure handouts, slides, and images have a good color contrast so that participants with low vision can see them without difficulty. Whenever possible, email handouts to attendees who are blind in advance. In fact, this might benefit the entire group! Reading the text out loud while the material is reviewed in the meeting is also a good alternative.
Tip #2: Describe any visuals you will be showing.
As someone who is blind, I have always appreciated having detailed verbal descriptions of things and places. Being able to explore objects by touch whenever possible is also helpful. Good descriptions have become even more important now that we cannot always be physically in the same room. When presenting videos or any type of image as part of your virtual event, take a few minutes to verbally describe them for the benefit of attendees who are blind or have low vision. Similarly, many virtual events are organized so that participants will receive samples or other materials in the mail in advance. When using these materials during the meeting, be descriptive enough so that people who are blind can easily identify them. You can say something like "next, I will talk about the lotion sample that comes in the small rectangular bottle." Again, these types of descriptions can be helpful even for people who are fully sighted.
Tip #3: Communicate anything that 'doesn't look right'.
One of the hardest things for me to get used to is the highly visual nature of programs like Zoom, Skype and other teleconferencing systems. It's not that I don't understand how it works, but it can be challenging for me to know if my camera is pointed in the right direction, for instance. If you notice that the camera of a colleague who is blind is turned off or not focused in his or her direction, feel free to bring it to their attention. Saying something like "Joe, can you scoot slightly to the left so you are in the camera's view" is acceptable. Also, be sure to discretely tell us if something looks off. Let us know when there is not enough lighting, if there are things we should remove from the background, etc. If time allows, it helps if you let us know before the meeting begins. Otherwise you can send us a quick text or email. I assure you this is all very much appreciated!
Tip #4: Allow extra time for responses.
Another thing I have found incredibly challenging is knowing when it is my turn to speak. This is easier during in-person gatherings because I can generally tell when someone is done talking. Now that we are all separated by the computer screen it is not always as easy. I have occasionally interrupted others by accident when they are still speaking. If the meeting allows, try to have someone who will moderate the conversation. That way they can call on people when it is their turn to talk.
Adapting to virtual events has become the norm for everyone during the COVID-19 pandemic. If you are working remotely, chances are you have attended or hosted several virtual meetings during the last seven months. Thanks to modern technology, those of us who are blind or visually impaired can also participate in these meetings. By keeping these tips in mind, you can help make our experience more inclusive. If you would like to learn more about how to make your website or digital services accessible for people with disabilities, our Digital Accessible Experience (DAX) team can help! Visit www.chicagolighthouse.org/dax for more information.
Do you have other tips or suggestions you have found helpful for virtual meetings? Please share! Leave a comment on this post, or email me at sandysview@chicagolighthouse.org.
Back to top