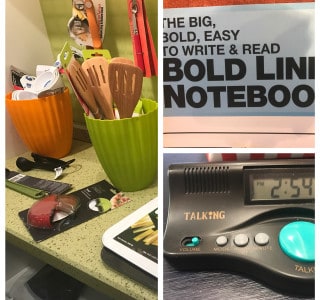 Holiday Gift Ideas From The Lighthouse's Tools for Living Store!
December 1, 2016
The holidays are here, and with them comes celebration and gift giving! Like with everyone else, you want to give your loved ones with vision loss something they'll find both useful and enjoyable. The Chicago Lighthouse's Tools for Living Store has over 900 products for people of all ages. From stocking stuffers to the latest in technology, you'll be sure to find something everyone will like!
Game enthusiasts will love the wide selection of products. The store carries Braille and large print versions of popular games like Bingo, Scrabble, Checkers, Crazy Eights, Uno, Hoyle and Pinochle. Dominos with raised dots and Brailled dice are also available. With the wide selection of auditory and tactile toys and games, you'll be sure to find something for children of all ages as well.
The wide selection of Braille, large print and talking watches will help your loved one keep track of time! They include many features, such as alarm, stopwatch, calendar and thermometer. Other talking, large print and Braille products are also available. These include calculators, telephones and thermometers. Those who enjoy cooking will love the kitchen tools, like Braille and large print measuring cups and adaptive cutting boards and knives.
The Tools for Living Store sells a wide selection of assistive technology products. These include hand-held magnifiers, digital players and recorders, screen-reading and magnification software and note-taking devices. Portable CCTVs and talking GPS devices will help those with vision loss be more independent. Wearable technology, like the OrCam and Esight devices, are the latest in assistive technology for people with vision loss, and are available at the Tools for Living Store. Please note that some of these devices require initial consultation in order to insure they are right for the clients.
Chicago Lighthouse mugs, shirts, tote bags and holiday ornaments make great stocking stuffers for everyone! The Braille readers on your list will surely appreciate a Braille holiday or greeting card along with their gift! Other small items, like sunglasses and pocket flashlights are also available. In other words, the Tools for Living Store at the Chicago Lighthouse has something for everyone on the list!
To find out more or purchase any of the products offered at the Tools for Living Store, you may stop in person at our main location at 1850 W. Roosevelt Road in Chicago, or at our Glenview facility, 222 Waukegan Road. You may also call toll free, (800) 919-3375 or email store@chicagolighthouse.org. To order online, visit www.lighthousetoolsforliving.org. Receive free shipping with orders over $150 placed between December 1 and 31! Please note that we suggest you place your order before or on December 11 in order to ensure delivery before the holidays. Proceeds from all products support the programs offered at The Chicago Lighthouse, serving people who are blind, visually impaired, disabled and Veterans.
Happy holidays, and happy shopping to all!
---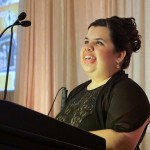 Sandy Murillo works at The Chicago Lighthouse, an organization serving the blind and visually impaired. She is the author of Sandy's View, a bi-weekly Lighthouse blog about blindness and low vision. The blog covers topics of interest to those living with blindness and vision impairments. Being a blind journalist and blogger herself, Sandy shares her unique perspective about ways to live and cope with vision loss.
Back to top