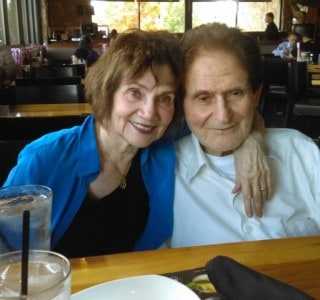 Meet Ben and Sarah
They have been married for nearly 60 years and this Thanksgiving, they are grateful for still being able to share life together along with their children and grandchildren!
A native of Israel, the husband is a retired university professor who is coping with being both visually and hearing impaired.
The wife, originally from Texas, serves as his primary caregiver.  She performs such tasks as reading to her husband, typing his messages on the computer to friends and family, and driving him to appointments.
Meet Haskel, or Ben as his friends call him, and Sarah Benishay, residents of Chicago's far north side, who are active participants at Chicago Lighthouse North in Glenview.  The couple attend monthly senior programs at the agency, including a support group and book club.  In addition, Ben receives care from Dr. Kara Crumbliss of Lighthouse North's low vision clinic.  He also utilizes assistive technology devices that are available at the facility's Tools for Living store.
"We absolutely love The Lighthouse," Ben said.  "Everyone there is so warm and caring that the minute we walk in the door we feel like we're part of an extended family."
Sarah agrees, pointing out how helpful the staff, including Senior Director Melissa Wittenberg and Dr. Crumbliss, are.
She noted that her husband has a Ph.D. in economics and statistics from the University of Chicago and formerly taught at Northwestern's Kellogg School of Business for many years.  Though in his late 80s, his mind is quick and he maintains a thirst for knowledge.
Ben emphasizes that he  is a lucky man to have such an incredible wife and companion.  "I don't know what I'd do without her," he smiles.
Longtime theater buffs, the couple previously attended plays every month.  They also went to movies and enjoyed having dinner with friends.  However, they aren't able to do that as much anymore due to Ben's further diminished vision loss.
"Now we derive much happiness just sitting and talking while working on our computers," Sarah said, adding with a laugh, "after all the time we've spent  together, believe it or not, we're still good friends!"
Asked if she had any thoughts on the role of caregivers, who are honored during the month of November, Sarah paused for a moment and reflected.
"I take caregiving as part of a good marriage and I do it willingly. My husband has certain needs and it is my responsibility to meet them and be there for him.  I know he'd do the same for me."
Back to top