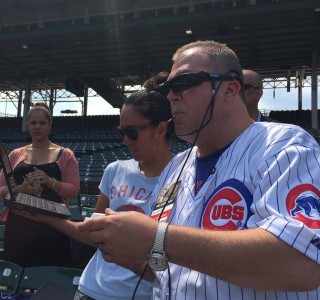 Finding Vision and Hope Through Modern Technology
August 4, 2016
Last week, CBS 2 Chicago aired a story about Chicago Lighthouse patient and avid Chicago Cubs fan Andy Fabino. The piece showcased the BrainPort V100, an innovative device which helps people who are totally blind identify letters and numbers, recognize objects and become more aware of their surroundings. The device, which is currently offered at The Chicago Lighthouse, transmits visual information through gentle electric stimulation on the person's tongue. I caught up with Andy to learn more about the renewed sense of hope he has found thanks to the BrainPort and The Lighthouse.
Andy's life was forever changed on September 28, 2011 when he suffered a brutal assault and was left for dead. After spending 14 days on life support and in a coma, Andy realized he could no longer see when he woke up. He figured his doctors would be able to "turn the lights right back on," and everything would return to normal. After coming to terms with his blindness, Andy knew he had to take the next step and learn how to live without sight. He enrolled at the Illinois Center for Rehabilitation and Education (ICRE,) where he received training on assistive technology, orientation and mobility and other activities of daily living for nine months.
During a visit with his Ophthalmologist, Andy learned about the BrainPort V100, a new device developed by Wicab Inc, a company based out of Middleton, Wisconsin. Months later, he was contacted by Meesa Maeng, assistant director at The Lighthouse's low vision research laboratory. Andy began working with Meesa to learn how to use the BrainPort V100. The device was approved by the FDA in 2015, and is offered at The Chicago Lighthouse.
Patricia Grant, director of clinical research for Wicab, explains that the device consists of a digital video camera, hand-held controller, base unit and a small electrode array which rests on the top of the user's tongue. The images captured by the camera are translated into vibrations that are felt on the tongue, a sensation described by patients as similar to the popping of champagne bubbles. The training, which generally takes 10 hours, consists of learning how to interpret the sensation and operate the device. Patients are then able to do things, like identify and reach for nearby objects, identify objects from a distance, follow a pathway without veering off, and avoid colliding with obstacles.
After using the device for over a year, Andy says it has dramatically changed his life. He can "see" with his tongue his grandson waving at him and the cars passing by when out and about in the street. Although the BrainPort does not allow him to visually see things, he can get a better sense of the people and things around him.
"It doesn't make the lights come back on … what this device does, it gives a little bit of brightness to an otherwise dark place," he says.
A major drawback is the cost of the device. With a price of $10,000, it is a major financial commitment for the average person to purchase the BrainPort. Since the device is currently not covered by health insurance, many patients turn to crowdfunding websites like Go Fund Me or KickStarter. Wicab is in the process of working with insurance providers and other parties to develop more purchasing alternatives. Ultimately, the cost will not be a burden for those that can potentially benefit from the device.
Andy encourages anyone who is interested to learn more about the BrainPort, and to try it out if they have the opportunity.
Those interested in learning more about the BrainPort V100 can visit Wicab's website for more information. There, they can see a video which demonstrates and explains the BrainPort.
Back to top