Commentary: How Smart Homes Are Empowering People with Disabilities
Imagine being at home, when all of a sudden you hear your doorbell ring. Unless you were expecting someone, like a mail or food delivery, you might not know who it is if you cannot see. Similarly, unless someone who is blind or visually impaired has a talking thermostat, the majority of these appliances currently in the market are inaccessible. We therefore might require assistance from a sighted friend to change the thermostat, which is not always convenient.
The evolving concept of smart homes is becoming a game changer for people with disabilities, including individuals who are blind or visually impaired. This story from NBC News shows how Apple's technology, along with smart home accessories, are transforming accessibility for people with disabilities. Todd Stabelfeldt is quadriplegic, and has no movement below his shoulders. Thanks to new technology, he can use an iPhone and Siri to open his garage door, turn the lights on and off, open and close the blinds, adjust the thermostat and monitor his security system independently. You can see Todd interacting with this technology in this video. These are all things that were impossible for him and other people with disabilities to do independently prior to the advent of smart home technology.
Just as smart home technology has allowed people with physical disabilities to be more independent, it can do the same for those of us who are blind or visually impaired. We can now change the temperature on the thermostat by using our smartphone or tablet. It is also possible for us to know who is at the door by asking them before even opening. Moreover, we can control our security system independently, something that was not always easy because of accessibility challenges. Turning our lights on and off and locking our doors is also easier, and all of this will give us more peace of mind knowing we are safe.
As with anything else, there are cons to this technology. One of the biggest concerns is the risk of getting information – including personal details and passwords – stolen. This is a valid concern, but is something that is already being addressed. Facial recognition technology, for example, allows computers to identify users by taking a photo of their face. It is therefore important to make smart home technology, like switches, cameras and mobile apps, secure and accessible to everyone, including people with disabilities.
There's no doubt that smart homes are changing the way we control our household appliances. People without disabilities enjoy the convenience of controlling their homes with a smart phone or tablet. For people who can't see or have other disabilities, it goes beyond convenience. This technology allows us to be more independent in our own homes, something that everyone wants and deserves.
---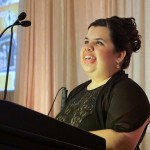 Sandy Murillo works at The Chicago Lighthouse, an organization serving the blind and visually impaired. She is the author of Sandy's View, a bi-weekly Lighthouse blog about blindness and low vision. The blog covers topics of interest to those living with blindness and vision impairments. Being a blind journalist and blogger herself, Sandy shares her unique perspective about ways to live and cope with vision loss.
Back to top