Commentary: On Google's Inclusion of People With Disabilities
Yesterday (January 23) marked what would have been the 78th birthday of Ed Roberts, a pioneering disability rights activist who is often called the father of the Independent Living movement. Among other things, this movement emphasizes the need for people with disabilities to find ways of living with their disabilities, rather than being limited or defined by them. These ideas helped shape the disability rights movements in the United States and other countries.
In honor of the occasion, Google featured a doodle of Roberts giving a lecture in his wheelchair on its site all day yesterday. It is not the first time Google features a Doodle related to disabilities. During the day of the opening of the 2016 Rio Paralympics, Google featured a depiction of the different sports played by athletes with disabilities. Also in 2016, Google created a Doodle in honor of Louis Braille's 107th birthday.
As someone who is blind, I am thrilled at Google's effort to include notable figures with disabilities on their site. This helps spread awareness about the different talents and contributions that people with disabilities have made throughout history. Sadly, these are not showcased as often as other historic figures in mainstream media. Doodles and similar depictions of disability-related topics can go a long way in educating the general public. This will lead to greater awareness and inclusion of people with all types of disabilities.
You can learn more about Ed Roberts and the Independent Living movement by visiting this website. Have you come across any other Google Doodles featuring disability-related people or topics? If so, please share with our readers in the comments section!
---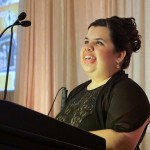 Sandy Murillo works at The Chicago Lighthouse, an organization serving the blind and visually impaired. She is the author of Sandy's View, a bi-weekly Lighthouse blog about blindness and low vision. The blog covers topics of interest to those living with blindness and vision impairments. Being a blind journalist and blogger herself, Sandy shares her unique perspective about ways to live and cope with vision loss.