Sandy's View: Sandy's Top Four Tips for Preparing Resumes and Job Applications When You Are Blind or Visually Impaired
When I was a sophomore in high school, counselors and other teachers began stressing how important it would be for my classmates and I to have a well-polished job application and resume. Making sure the resume was formatted correctly, listing our previous job experience, and filling out job applications thoroughly were among the things teachers emphasized the most. Now that I have been part of the workforce for several years, I realize the importance of having a well-written and up-to-date resume and application. There are other tips specific to job seekers who are blind or visually impaired I wish I had known back when I was applying for internships and jobs. With National Disability Employment Awareness Month in full swing, I want to share some handy tips that I learned along the way during my job search as a person who is blind.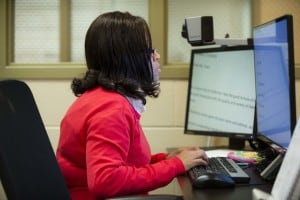 Tip #1: Format and organize your resume.
Double and triple check that your resume or cover letter is formatted correctly! This is important for everyone, but more so for people who are blind. Have a sighted person look at your resume or cover letter to make sure the formatting and spacing is presentable and professional. Regardless of whether or not you are visually impaired, it can be helpful to have a second person take a look and catch any typos you might have missed.
In today's world, having a well-formatted resume is not nearly enough to get that desired position! Besides listing things like previous job experience and other skills, it is also important to include keywords that will make your resume stand out and maximize your chances of getting hired. Nowadays and with the aid of technology, search engines and prospective employers use this information to locate the best qualified candidates. For that reason, it is important to have resumes tailored specifically to each job you are applying to.
Tip #2: Be thorough but brief.
A good resume should also include up-to-date contact information as well as a brief description of your accomplishments and experience. Martha Younger-White, Senior Vice President of Employment Services at The Chicago Lighthouse, suggests applicants list all of this information on the top half of the resume since this is where Human Resource Managers will pay the greatest attention. She says an applicant has approximately 6 seconds or less to convince a Hiring Manager that he or she is the perfect candidate, so being concise is key!
Tip #3: Look at online applications ahead of time.
When filling out an online job application, give yourself some extra time to get familiar with the form. Again, this can be handy for everyone. In the case of people who are blind or visually impaired, it will help us know if the application is fully accessible or if sighted assistance might be needed. If there are parts of the online application that are not accessible even with assistive technology, organize your answers or whatever other material you need ahead of time. That way you will be able to better indicate what type of help you need if sighted assistance is necessary.
Tip #4: Prepare in advance when completing paper applications.
Although most companies now require applicants to fill out applications online, there will be times when you might need to complete a hardcopy document. There might be a form you need to print out and sign as part of a job application, for instance. If possible, ask if the document is available as a Word file or other accessible format. If that is not the case, be sure to prepare in advance. When I was filling out some print forms for my first internship, I reviewed them and prepared my answers ahead of time. I made sure to have important information like names, phone numbers and addresses handy. For questions that required longer answers, I first typed out my responses and then printed a hardcopy. That way the person assisting me could simply transcribe my answers onto the form. This takes extra preparation, but it will save you and anyone who is assisting a lot of time in the process. Also make sure that you are comfortable and trust the person who is helping out, as the information you will be sharing can be sensitive.
I hope these tips will come in handy when applying for a job! If you are a person with a disability and need more information about how to build your resume or cover letter, preparing for a job interview, or learning what career path might be right for you, The Chicago Lighthouse's Employment Services Program is here to help! You can reach Employment Services at 312-997-3659 or employmentservices@chicagolighthouse.org.
What other tips do you have for job seekers who are blind or visually impaired? Leave a comment on this post, or email me at sandysview@chicagolighthouse.org.
Back to top