How Do People who are Blind and Visually Impaired use the iPhone?
The first iPhone was sold 10 years ago on June 28, 2007. While it immediately became popular among millions of people throughout the world, those of us with disabilities were unable to use, let alone enjoy all of the iPhone's exciting and (at the time) new features. That all changed in 2009 with the launch of the iPhone 3GS, when Apple included screen-reading technology for blind and visually impaired users. Subsequent models also provided accessibility features for people with hearing, physical and learning disabilities. I began using an iPhone in 2012 – you can read more about how it has helped me in this commentary.
Although the iPhone has been accessible to the blind since 2009, many people from the general public still do not know how someone without sight can use smartphones or tablets. In the case of the iPhone, Apple has included a screen-reading program called Voiceover. This software – which comes already preinstalled in every Apple device – reads out loud what is on the screen when we tap on it. To open an app, we tap on it twice. Other gestures help us read text, type and adjust various Voiceover settings, like the speaking rate. Various Braille display devices are also compatible with Voiceover. This allows us to read what's on the phone's screen by using Braille if we so wish. Other settings, like text enlargement are also available for users with low vision in the iPhone's accessibility menu.
So, what exactly can people who are blind or visually impaired do on the iPhone? Pretty much everything sighted people can and more! Besides being able to make and receive phone calls, read and send text messages, play music and check our social media pages, people who are blind or have other disabilities can become more independent with everyday tasks. I can listen to audio books, know what color something is, read print materials, identify household items and even take pictures! Nowadays, numerous apps allow people with vision and other disabilities to do these and many other things independently. All of this was virtually impossible prior to the development of the iPhone.
If someone had told me 10 years ago that I would one day be able to use the iPhone, I would've simply laughed at them. Using a touch screen by someone who is blind was a concept never even dreamed of in 2007. Technology is constantly evolving, and I am sure it will continue surprising all of us. Speaking of surprises, I am not amazed that non-disabled individuals still ask me how I use my iPhone when they see me flicking and tapping the screen with ease. After all, I myself did not think I would be able to ever enjoy this innovative device when it came out 10 years ago. My hat goes off to Apple and the other developers who strive to make modern technology accessible and inclusive for all. Not only is it a good business practice, it is the right thing to do.
---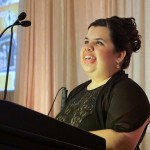 Sandy Murillo works at The Chicago Lighthouse, an organization serving the blind and visually impaired. She is the author of Sandy's View, a bi-weekly Lighthouse blog about blindness and low vision. The blog covers topics of interest to those living with blindness and vision impairments. Being a blind journalist and blogger herself, Sandy shares her unique perspective about ways to live and cope with vision loss.
Back to top