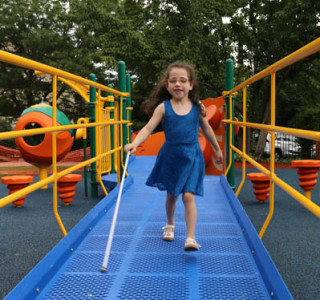 Why Is Accessible Play Equipment Important?
Yesterday, The Chicago Lighthouse held the dedication ceremony for its newly opened solarium. Located near our Preschool and Children's Development Center, this solarium was built with the needs of youngsters with visual impairments and other disabilities in mind. The play equipment is brightly colored, and some of it was chosen because it meets the needs of children who use wheelchairs. Additionally, The Chicago Lighthouse's playground also has accessible play equipment for children with physical disabilities.
What kind of equipment is accessible to children with disabilities? Playgrounds with ramps and smooth ground surfaces can help wheelchair users easily access and maneuver throughout the different areas. Pretend play equipment like pirate ships and castles with ramps allow them to participate in the fun with their friends. Custom made adapted swings may be good alternatives for children who have severe physical impairments or low muscle tone. Other equipment, like bicycles with adapted pedals, are helpful to children with physical disabilities.
Accessible play equipment not only helps youngsters with disabilities socialize and make new friends, it also allows them to stay active. With a great majority of Americans living sedentary and inactive lives, more and more children are facing obesity and other health concerns. This is especially true for children with disabilities, who are often unintentionally left on the sidelines at school and in their communities.
"We don't get enough exercise in America, and kids with disabilities get less,," said Lee Burklund, principal of the Preschool and Children's Development Center at The Chicago Lighthouse.
She says that although schools are required by law to provide more exercise opportunities to all students, they often fail to include those with physical disabilities. Another challenge is making the general public aware about the importance of accessible playgrounds. News stories often surface in the media about play equipment being vandalized or damaged, and Burklund thinks it is because people do not fully understand its importance and significance to these children and their families.
Fortunately, more people and communities are advocating to change all of this. Laws like the Americans with Disabilities Act mandate that public accommodations be made accessible to those with disabilities. However, Burklund points out that schools often don't realize their playgrounds are inaccessible until they get a student with a disability. Another concern is the cost of the equipment and renovations necessary to build accessible playgrounds. Nonprofits like Kaboom and other local community groups are great funding sources for interested schools and communities.
The benefits of accessible and inclusive playgrounds far outweigh the costs. These environments not only provide recreation for children with disabilities, but can also help their non-disabled peers learn to understand differences. With inclusion becoming more prevalent across the United States, it is crucial for both children and adults to become aware about  the need to make environments more accessible for everyone. Inclusive and accessible spaces benefit the society at large. We often want to do what's best, and making accessible environments is definitely the right thing for all of us!
To find out more about the Chicago Lighthouse's education and other services, visit www.chicagolighthouse.org. If you are interested in building accessible and inclusive playgrounds, check out Kaboom's list of tips and suggestions.
Back to top